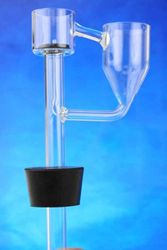 STATEN ISLAND, N.Y. (PRWEB) April 12, 2018
FireflySci Inc. is a small but rapidly growing cuvette manufacturing company. Founded in 2014, the owners of FireflySci had one goal in mind, to make the fastest and easiest way to purchase cuvettes. The company has blown that goal out of the water and has taken on many new and mega-valuable projects over the past few years.
Now FFS is smashing down more barriers to make more improvements for their customers. Researchers have always needed custom glassware to run their experiments. The problem was that scientific glassblowing was a dying art and glassblowers were hard to come by, not to mention the waiting time for a custom project. Now with the addition of a brand spanking new scientific glassblowing shop, FireflySci is determined to fix all these serious problems.
The idea for FFS to open up a scientific glassblowing shop came to the managers of FFS in January 2018. They saw the issues that were plaguing their customers. Sometimes customers had to wait for over eight weeks for custom projects, affecting the time and patience of everyone involved. This was a giant obstacle to overcome, and FireflySci took action immediately.
FireflySci invested in a ton of new equipment for their glass lab. This includes top of the line GTT torches, glass/quartz working tools, kilns, lathes, safety equipment, ventilation systems, and of course training for their employees. On top of the equipment, FFS has worked out deals with the best borosilicate and quartz suppliers for tubing and rods.
With the impressive addition of a scientific glassblowing lab, FireflySci has fixed one serious problem for researchers. That is the problem with devastating lead times. The FFS glassworking shop can have a custom order ready in 1-2 weeks time, drastically reducing the 8-9 week manufacturing time for many other companies.
In addition to lighting fast manufacturing times, the quotation process is lightning fast as well. Once a customer has submitted a sketch, it takes FFS 1-2 days to get a quotation ready. FFS representatives are friendly, knowledgeable and easy to work with. The combination of first class customer service and fast lead times is becoming the standard people expect when working with FireflySci.
The glassworkers at FFS are excited to offer such a valuable service to their customers. Whether it is a custom cuvette, analytical apparatus, cuvette washer, FireflySci is ready to help researchers get the parts they need as fast as possible.
For more information, please visit http://www.fireflysci.com