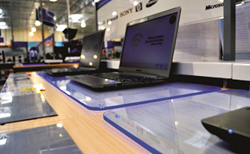 We are hopeful that the new production facility, although still operating at less than 50% capacity, will bring big changes and much needed stability to the market.
Houston, Texas (PRWEB) April 12, 2018
The acrylic sheet market has seen record volatility for nearly 18 months. Increased global demand (particularly in Asia), along with supply shortages, has caused acrylic sheet prices to steadily increase since October 2016.
"The growth of the methacrylate monomers market is primarily driven by the huge demand from Asia Pacific and growth in end-use industries such as automotive, architecture & construction, and electronics" (ResearchAndMarkets.com, 2018).
Despite an upward trend in prices over the last 18 months, manufacturers, distributors, and end users can find relief in the new MMA & PMMA facility that is now in production. In a joint venture with SABIC, Mitsubishi Chemical Company has begun producing MMA & PMMA in two separate facilities in Saudi Arabia. The production of monomer and acrylic resin should relieve some of the stress accumulated in the market. Shipments of resin have already gone out for delivery and production should increase as each plant continues to perform tests.
What does this mean for the plastic sheet industry? Other industries, such as the acrylic paint industry, have begun using this new resin. As production increases, we can expect sheet manufacturers to begin using the resin as well. Sheet manufacturers can expect prices to stabilize, or at least increase at a slower rate once these facilities are producing at maximum capacity. Until then, plastic sheet users continue to suffer from the almost monthly price increases.
"As MMA and PMMA continue to gain popularity in several expanding applications, global demand is expected to continue to rise leaving production lagging. We are hopeful that the new production facility, although still operating at less than 50% capacity, will bring big changes and much needed stability to the market." – Adam Taylor, Market Analyst
Sources:
Mitsubishi Chemical Holdings Corporation. (2018, April 4). Mitsubishi Chemical Announces MMA Monomer and PMMA Plants Start Commercial Operations in Saudi Arabia [Press release]. Retrieved from http://www.mitsubishichem-hd.co.jp/english/news_release/pdf/00648/00735.pdf
ResearchAndMarkets.com. (2018, January 18). Global Methacrylate Monomers Market Report 2017-2022 – A $11.26 Billion Market Opportunity – ResearchAndMarkets.com. Retrieved from https://www.businesswire.com/news/home/20180118006188/en/Global-Methacrylate-Monomers-Market-Report-2017-2022--