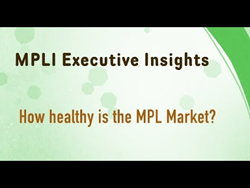 I've been hearing rumors about some (MPLI Market) hardening......but who's gonna be the first one to blink?
CHICAGO (PRWEB) April 12, 2018
Healthcare Matters today launched new video segments from its "MPLI Executive Insights" series, where executives from companies involved with medical malpractice insurance are interviewed about trending topics and contemporary challenges facing the industry at large.
The two new segments of "MPLI Executive Insights" feature interviews from the 2018 Professional Liability Underwriting Society (PLUS) Healthcare and Medical PL Symposium in Chicago.
In the first video, Bill Burns, vice president of insurance research at the global investment management firm Conning, expertly discusses the state of the medical professional liability (medical malpractice) insurance industry. In this segment, Burns examines the challenges associated with operating in a soft market where medical malpractice insurance rates have not changed significantly in more than a decade, whether the market will eventually harden or accumulated surplus has created a new normal for MPL insurance pricing and the potential for a few large MPL insurance companies monopolizing the industry.
In the second video, Andrew Charron, head of healthcare for specialty insurance provider CapSpecialty, shares his insight into the miscellaneous facilities insurance market. In this segment, Charron discusses the booming home health market, challenges associated with a growing market but shrinking premium value and how underwriting speed can often determine who ultimately gets a potential insured's business.
About Healthcare Matters
Sponsored by Cunningham Group, the medical malpractice insurance specialiasts, Healthcare Matters is an internet television program that explores the intersection of healthcare practice, the business of medicine and the law. Hosted by Michael Matray – editor of Medical Liability Monitor, the medical professional liability industry's publication of record – Healthcare Matters investigates pertinent issues facing healthcare professionals such as succeeding in a post-Affordable Care Act healthcare delivery system, best practices for avoiding lawsuits, risk management, how to react when faced with a medical malpractice claim and new trends in medical liability litigation.
Contacts
Erik Leander, Executive Producer, 708-848-6434, eleander(at)cg-ins(dot)com