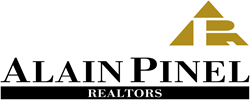 These partnerships not only bring tremendous value to our agents, but also to homebuyers and sellers
SARATOGA, CA (PRWEB) April 11, 2018
Alain Pinel Realtors (APR) today announces it is joining forces with the popular neighborhood social network Nextdoor as well as real estate digital marketing leader Adwerx. These two partnerships will allow APR and its agents to better engage homebuyers and sellers within certain neighborhoods through Nextdoor, while also reaching homebuyers and sellers through a targeted social and display ad campaign.
"Nextdoor is well-known within neighborhoods across the U.S., and we are excited this partnership will get neighbors talking about APR listings, as word of mouth is key to any property marketing campaign," said APR President Mike Hulme. "At the same time, Adwerx is bringing new technology to APR that will allow us to launch sophisticated digital advertising campaigns that target clients geographically. These partnerships not only bring tremendous value to our agents, but also to homebuyers and sellers."
A key social connector in more than 80 percent of neighborhoods nationwide, Nextdoor will feature APR listings in the private digital community of that listing. Similar to the traditional "just listed" postcards received in the mail, neighbors will now be able to view listings instantly through Nextdoor, and be aware of these listings before the general public. These neighborhood listings will automatically appear to all members of the social network within the listed home's neighborhood, making them the first to know about a sale that could affect their own home's value. APR agents will also be able to connect with neighbors through their own Nextdoor Business Pages, which will include the agent's profile, contact information and testimonials. A major influence on purchasing decisions, these types of interactions give buyers and sellers the opportunity to get to know APR agents.
APR's partnership with Adwerx takes the client experience a step beyond the competition in Northern California's real estate market as well. Unlike more traditional property listing platforms APR's sellers will now have their homes automatically enrolled in a targeted social and display ad campaign. As such, their homes will be presented to prospective buyers at their earliest sign of interest via Facebook, as well as key media websites like CNN and The New York Times. This targeted digital marketing technology will give those working with APR a competitive advantage over those listing with other Realtors in the Bay Area.
With these two partnerships, APR continues to bring valuable, market leading resources to its home buyers and sellers.
About Alain Pinel Realtors®
Alain Pinel Realtors (APR) is the largest privately owned residential real estate company in Northern California and is consistently ranked among the top 10 largest residential real estate firms in the United States based on closed-sales volume. The firm has 1,400 agents in more than 30 offices throughout Northern California. APR was founded in 1990 by Chairman and CEO Paul L. Hulme, and is based in Saratoga, Calif. Visit us at apr.com, china.apr.com, facebook.com/AlainPinelRealtors, and @AlainPinel.
About Nextdoor
Nextdoor (nextdoor.com) is the free and private social network for neighborhoods available on Web, iOS, and Android. On Nextdoor, neighbors create private online communities where they get to know one another, ask questions, and exchange advice and recommendations. More than 170,000 neighborhoods across the United States, Germany, France, United Kingdom, and the Netherlands are using Nextdoor to build stronger and safer places to call home. Headquartered in San Francisco, Calif., Nextdoor is a privately-held company with the backing of prominent investors, including Benchmark, Greylock Partners, Tiger Global Management, Kleiner Perkins Caufield & Byers, and others. Real estate agents can use Nextdoor to connect with homeowners, grow their local reputation, and become the agent neighbors think of first. Real estate agents interested in Nextdoor can visit [https://realestate.nextdoor.com/
About Adwerx
One of the fastest growing companies in real estate technology, Adwerx automates digital advertising for brokerages to delight the seller and increase agent satisfaction. Adwerx helps individual agents promote themselves and their listings online, working with over 100,000 real estate customers across the US, Canada and Australia. Adwerx was ranked #173 on the Inc. 5000 list of America's Fastest Growing Private Companies for 2017 and has been an Inman Innovator Award nominee for its advertising technology. For more information, visit http://www.adwerx.com.