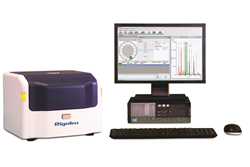 MUNICH (PRWEB) April 12, 2018
Applied Rigaku Technologies, Inc. (ART) is pleased to announce its attendance at the 26th international Trade Fair for Laboratory Technology, Analysis and Biotechnology (Analytica 2018) taking place April 10-13 in Munich. The ART division is presenting its line of energy dispersive X-ray fluorescence (EDXRF) analytical instrumentation at the Rigaku exhibit in Hall A1 Booth 330.
On display at the event is the Rigaku NEX DE analyzer, developed for heavy industrial applications and engineered to maximize flexibility and ease of use. It is equipped with a 60 kV, 12 W X-ray tube to deliver significant gains in elemental peak resolution and counting statistics, resulting in superior calibrations and precision for the most challenging measurements.
The system operates on the latest Rigaku QuantEZ analytical software, specifically designed for the Rigaku family of benchtop EDXRF analyzers. Running under the Microsoft Windows operating system, on a laptop or benchtop personal computer (PC), the software offers all the functions required for calibration and routine operation.
The ART division is also presenting the new Rigaku NEX LS Scanning Multi-element Process Coatings Analyzer. Featuring advanced third generation energy dispersive X-ray fluorescence (EDXRF) technology, the NEX LS analyzer represents the next evolution of scanning multi-element process coatings analyzers for web or coil applications. The measuring head, mounted on a rigid beam is equipped with a linear traversing mechanism ensuring constant head-to-surface distance.
For on-line elemental analysis, the ART division offers the Rigaku NEX OL process elemental analyzer. The NEX OL enables real-time process elemental analysis for liquid stream applications. It is also designed to service web and coil applications, with the ability to analyze multi-element composition and/or coating thickness.
Rigaku's ART division specializes in X-ray fluorescence (XRF) spectrometers employing energy dispersive detectors (EDXRF). More information about XRF as an X-ray spectrometric technique for elemental analysis of a wide variety of materials is available at http://www.rigakuedxrf.com.
About Rigaku
Since its inception in Japan in 1951, Rigaku has been at the forefront of analytical and industrial instrumentation technology. Rigaku and its subsidiaries form a global group focused on general-purpose analytical instrumentation and the life sciences. With hundreds of major innovations to their credit, Rigaku companies are world leaders in X-ray spectrometry, diffraction, and optics, as well as small molecule and protein crystallography and semiconductor metrology. Today, Rigaku employs over 1,400 people in the manufacturing and support of its analytical equipment, which is used in more than 90 countries around the world supporting research, development, and quality assurance activities. Throughout the world, Rigaku continuously promotes partnerships, dialog, and innovation within the global scientific and industrial communities.
For further information, contact:
Robert Bartek, President
Applied Rigaku Technologies, Inc.
tel: +1. 512-225-1796
info(at)RigakuEDXRF(dot)com