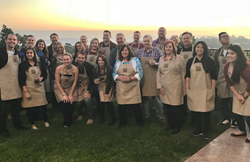 SAN DIEGO (PRWEB) April 12, 2018
Lajollacooks4u has become one of the top destinations for corporate team-building. Founded in 2008, it has hosted corporate cooking challenges for companies around the world, such as Illumina, HP and Qualcomm, and is ranked #1 in its category on Trip Advisor.
Part of the reason for its increasing popularity is due to its signature team-building format, a way for teams to not only interact with one another in a cooking environment, but engage in some friendly hands-on competition, as well.
Each challenge begins as participants are split into groups using various ice breakers and interactive games. From there, group members are then divided into teams and guided by Chef Jodi Abel's staff as they compete against each other in creating several different menu items. Participants are judged by taste, presentation and teamwork, and ultimately compete to be the team with the most points. There is even a marketing "infomercial" component, which entails each team collaborating on how to best "sell" their menu item to the judges. Once all teams have completed their recipes, participants reconvene to enjoy the gourmet meals they co-produced, all while recognizing that their success was based on teamwork.
Team members from Audi USA who recently visited said, "This was a fantastic event and everyone really enjoyed themselves! Great food and experience, with memories to last a lifetime!"
Another group, ID Analytics, considered Lajollacooks4u's team-building events, "a great way to mix up day-to-day interactions and learn new skills," while another team, Procede Software, exclaimed, "the cooking, teamwork and food was amazing. What a wonderful place and time spent together!"
The continual rising success of Lajollacooks4u and its consistent five-star reviews keep companies and guests returning for their own extraordinary experience.
For more information on Lajollacooks4u's corporate team-building event packages, please visit http://www.lajollacooks4u.com.
About Lajollacooks4u:
Lajollacooks4u, founded in 2008, provides a unique culinary experience for corporate cooking challenges and special events in a magnificent setting overlooking the Pacific Ocean. Based in La Jolla, California, Lajollacooks4u has enjoyed record growth since its inception and has been ranked as the top in its category by the popular travel review site, Trip Advisor. Chef Jodi Abel also recently released her cookbook, Lajollacooks4u: California Cuisine, an accumulation of the favorite recipes her guests have been raving about. For more information about her cooking events, as well as her cookbook, please contact jodi(at)lajollacooks4u(dot)com.