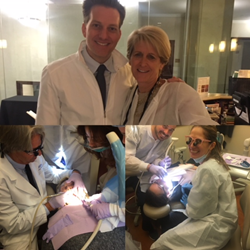 LOS ANGELES (PRWEB) April 11, 2018
As new advancements in technology and techniques emerge in the dental industry, Dr. Leslie Bonar and Dr. Charles Basso of Grand Dentistry in Escondido, CA, are making efforts to stay ahead of the curb. "Exceeding expectations in smile makeovers is our passion," says Dr. Bonar, "so mastering the new cosmetic and digital technologies that are showing up every day is paramount to keeping patients satisfied."
"It is a new positive age of dentistry," continues Dr. Bonar," and it's an age NOT to be feared, which is why I am traveling to the NYU School of Dentistry to 'Aesthetic Advantage' at the Rosenthal Institute to fine tune my cosmetic, photographic and dental artistry skills for my practice." Headed by renowned dentist Dr. Larry Rosenthal," the Aesthtic Advantage" program will feature a multitude of high-quality speakers giving talks on the topics of: Anterior Aesthetics, Dental Implants, High-tech Implementation, Personal Motivation, Social Media, Staying Connected and Integration of Technology, The Importance of Pre-Prosthetic Soft and Hard Tissue Management, Practice Management, Team Building and Leadership.
Commenting on what she is looking forward to at the Aesthetic Advantage, Dr. Bonar said, "Veneers can be made by a master Ceramist to look so natural but healthy white. I am excited to see the transformations of the patients coming to be part of this live course!"
Dr. Bonar's decision to attend the "Aesthetic Advantage" seminar comes months after her practice became the first to own and use CariVu, an innovative new approach to cavity detection in preventive dentistry. "Dr. Basso and I are devoted to acquiring the latest and best technology available, which lead us to acquiring CariVu - a new portable wand that bathes the tooth with a harmless infrared light to give a digital image that the patients can actually see for themselves," say Dr. Bonar. "We are also using sedation techniques to help all patients with their 'Smile Makeovers'. It's safe and we have extensive training in the protocols ."
"I'll be coming back from this seminar with the highest level of quality and artistry in dentistry today. I'll learn better preparation of teeth to give success to the person fabricating the veneers! A win-win," says Dr. Bonar.
For more information on Leslie Bonar, DDS and Grand Dentistry, please go to http://granddentistry.com/dr-leslie-bonar/.