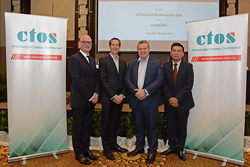 CTOS and LenddoEFL will launch a universal credit decisioning platform capable of assessing the credit-worthiness of practically any Malaysian regardless of their credit history or lack thereof.
KUALA LUMPUR, Malaysia, and SINGAPORE (PRWEB) April 12, 2018
CTOS Data Systems Sdn Bhd (CTOS), Malaysia's largest credit reporting agency, has entered into a partnership with LenddoEFL to achieve a joint vision of financial inclusion for Malaysian consumers with little to no credit history. Both fintech leaders have aided banks, lending institutions, utility and credit card companies to reduce risk, increase portfolio size, improve customer service and accurately verify applicants.
Although the predictive validity of credit scores on payment behaviour has improved over the years, a significant subset of potentially good borrowers is currently being denied access to credit because of lack of credit history. These 'thin-file' consumers are in a financial catch twenty-two. Due to consumer lending being traditionally dependent on credit scores, these individuals find themselves financially excluded from the credit ecosystem and also unable to improve their credit scores.
"By making full use of behavioural and digital data that consumers have provided explicit permission to use, CTOS and LenddoEFL will launch a universal credit decisioning platform capable of assessing the credit-worthiness of practically any Malaysian regardless of their credit history or lack thereof," Dennis Martin, Group CEO, CTOS Holdings Sdn Bhd said. "Moving forward, many individuals previously unserved by credit institutions will have the opportunity to access credit," he added.
With the exponential increase in smartphones and increasing access to the internet, these alternative datasets have more coverage and are more recent in nature than currently available traditional data. LenddoEFL's machine learning algorithms and artificial intelligence process the information once on a real time basis and when combined with traditional risk assessment policies, lenders can make more accurate distinctions between 'thin-file' consumers merely flying under the credit radar, perhaps due to lack of collateral or credit history, and others that pose an actual credit risk. CTOS customers with existing credit histories also benefit from the implementation of this credit decisioning technology as pricing and cut-offs are influenced by the inclusion of alternative data.
"We are excited to announce our partnership with CTOS which delivers on our shared commitment to power leading financial institutions with cutting edge analytics and technology and provides millions of creditworthy individuals in Malaysia access to life-improving financial services," shared Richard Eldridge, CEO, LenddoEFL.
About CTOS Data Systems Sdn Bhd
CTOS, Malaysia's largest private credit reporting agency, is a registered Credit Reporting Agency under the Credit Reporting Agencies Act 2010. Established in 1990, CTOS has over 25 years of experience in aiding credit grantors make better credit decisions. CTOS utilises information from its users and the public domain to support informed decisions and facilitate fact-based risk management when providing credit extension. CTOS delivers a complete portfolio of credit reports and value-added services and is widely used by the country's banking and financial institutions, insurance companies, large corporations, legal firms, businesses and state and statutory bodies. For more information, visit http://www.ctoscredit.com.my
About LenddoEFL
LenddoEFL's mission is to provide one billion people access to powerful financial products at a lower cost, faster and more conveniently. We use AI and advanced analytics to bring together the best sources of digital and behavioural data to help lenders in emerging markets confidently serve underbanked people and small businesses. To date, LenddoEFL has provided credit scoring, verification and insights products to over 50 financial institutions, serving seven million people and lending two billion USD. Find more information at https://include1billion.com/.