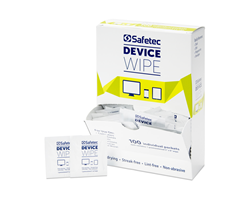 BUFFALO, NY (PRWEB) April 17, 2018
Safetec of America, Inc. is excited to announce the launch of their new Device Wipe. These ready to use pre-moistened wipes safely sanitize and remove dirt, grime, smudges, and fingerprints from all plastic, glass, and touchscreen surfaces.
In today's tech-savvy world, people take their smart phones, tablets, computers, and electronics everywhere they go which means these devices pick up lots of dirt, grease, grime, and fingerprints along the way. With this idea in mind, Safetec has developed a quick, easy to use solution to keep your screens and surfaces clean, sanitized, and free from unwanted residue with their new Safetec Device Wipe.
"We are always very in tune with our customers, they played a crucial role in letting us know that the Safetec Device Wipe would be a product they not only want but need," said Joe Vizzi, Vice President of Sales at Safetec.
Each towelette is formulated to be non-corrosive and non-abrasive, making them suitable for daily use. The formula also dries quickly, leaving a lint-free, streak-free finish that prevents any moisture damage. The individual packaging allows you to easily throw these wipes in your purse, backpack, or even your pocket for a quick, refreshing clean wherever you go. These wipes are ideal for use on computers, cell phones, tablets, televisions, cameras, remote controls, and more.
Interested in trying the Safetec Device Wipe on your devices? Click here for free samples.
About Safetec of America, Inc.: Safetec of America, Inc. is a manufacturing company in Buffalo, NY that offers an extensive line of first aid, infection control, compliance, and promotional products. For over 25 years, Safetec has consistently produced quality products that offer solutions for every industry. Customers choose to stay with Safetec because of their quality, stability, and value – and great American-made products.
For more information contact Safetec of America, Inc. at 1-800-456-7077 or by emailing info(at)safetec(dot)com.
887 Kensington Ave.
Buffalo, NY 14215
https://safetec.com/