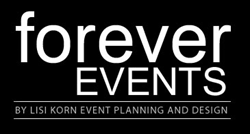 "Luxury wedding planning is a world apart from average weddings," remarked Lisi Korn, Director of Forever Events. "Luxury events require enormous planning and attention to detail, not to mention flawless execution of the event itself."
MIAMI (PRWEB) April 18, 2018
"Luxury wedding planning is a world apart from average weddings," remarked Lisi Korn, Director of Forever Events and professional wedding planner. Wedding planning requires enormous focus and attention to detail, not to mention flawless execution of the event itself."
Forever Events specializes in high-end event and wedding design for couples looking for high levels of personalization and customization in their event. Luxury weddings are more than just the exchange of vows and a fun party, Korn says. In their truest form, they provide an immersive experience for the guests and the couple, and transport attendees into another world.
Here are some of the similarities found among luxury weddings:
1. They often avoid DIY elements.
Affluent couples prefer to leave everything to professional party planners. On average, they're hiring 11 professionals to facilitate their wedding, compared to 8 professionals in an average wedding. More than half of luxury wedding couples hire a wedding planner, and 79% send out professionally designed save-the-dates.
2. They do not compromise on the date or location.
Luxury couples put a lot of dollars into getting their most ideal date and location for their wedding. Not only the date, luxury couples often rent out amazing resorts and beautiful destinations the world over.
3. Larger Bridal Parties
The average wedding party for a luxury wedding has 12 people total. And that means extra costs for the couples. Items to budget for when it comes to the bridal party? Attendant gifts, and hair & makeup on the day of. Over 60% of brides contribute to the bridal party's hair styling and 55% of luxury brides help with the cost of makeup.
4. They make the wedding last.
A luxury wedding party just keeps on going, this is especially true for luxury wedding venues Miami. That is because couples that choose a luxury wedding typically have five parties in addition to the actual wedding. The rehearsal dinner continues to be the most popular wedding related event (94% of couples have one), but there are other events gaining steam, like the morning after brunch, after-after parties, and more. Destination weddings also include options like having guides give guests a tour of the local area, or a group outing relevant to the destination.
ABOUT: Forever Events specializes in luxury event planning in Miami for the most exclusive clientele. With features in Grace Ormonde, JW magazine, and El Nuevo Herald. Forever Events is South Florida's premier wedding design firm. All of our content – including videos, images, blogs, and reports – can be accessed by PC, mobile, iPad, Facebook, Twitter, Instagram, Google Plus, and Pinterest.