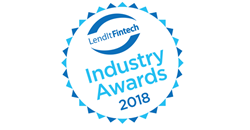 This recognition from LendIt, which brings together the brightest minds in Fintech, indicates that the industry is ready to welcome change.
SHERMAN OAKS, Calif. (PRWEB) April 12, 2018
LendingUSA, a leading provider of point-of-need financing, has been chosen as Emerging Lending Platform of the Year at the second annual LendIt Fintech Industry Awards. Selected as one of six finalists from hundreds of applicants, the company was chosen as "the organization that demonstrated the greatest potential to impact the future of online lending."
The award was announced April 10 at LendIt Fintech's Industry Awards Dinner in San Francisco, as part of its annual conference. Judges included executives from HSBC Bank, Moody's, Deloitte, Orchard, Prosper and others.
Camilo Concha, founder and CEO of the company, says the award demonstrates the value in LendingUSA's unique approach, which "marries the two core elements of our business: point-of-sale and direct to consumer financing."
"This is an extremely proud moment for us," says Concha. "LendingUSA first attended LendIt just a few years ago, where it all started, and it continues to be the most important conference we attend every year. When my team and I founded LendingUSA, we knew we wanted to create a lending platform committed to a new approach to financing. This recognition from LendIt, which brings together the brightest minds in Fintech, indicates that the industry is ready to welcome change."
Founded in 2015, LendingUSA is known for its focus on helping merchants in a multitude of industries grow their business with the power of point-of-need financing, which makes financing available to the consumer at the moment they need it. The company's financing solution is offered in medical and dental practices, funeral homes, pet stores, and other brick-and-mortar businesses, and focuses on providing fast, in-store access to financing for their customers. It is also known for its exclusive partnerships with the National Funeral Directors Association and the American Academy of Cosmetic Surgery, leading national organizations within their respective industries.
"Fintech is experiencing a boom in innovation and the 2018 LendIt Fintech award winners represent the leading edge of this innovation," said Peter Renton, Co-founder and Co-chairman of LendIt Fintech. "Congratulations to LendingUSA on winning the Emerging Lending Platform award. The judges recognized their leadership not just in product innovation, but in their regulatory compliance and loan origination growth."
About LendingUSA
LendingUSA's mission is to create lasting business partnerships by providing innovative point-of-need financing solutions for the important moments in life. It offers financing for consumers in specialty markets including the elective medical industry, dental care, pets, funerals, and more. They are committed to creating the best point-of-need consumer financing experience available, using a proprietary lending solution that leverages both traditional and next-generation underwriting and fraud detection techniques to approve loans as quickly as a few seconds. LendingUSA works closely with its merchant partners, providing the tools and training they need to easily and efficiently maximize customer financing approvals and grow their business. All loans are made by Cross River Bank, a New Jersey state chartered bank, Member FDIC. For more information, visit http://www.lendingusa.com.
About LendIt Fintech
LendIt Fintech is a recognized global internet finance industry leader, founded in New York in 2013. Its aim is to gather industry elites to discuss and explore latest trends in the development of international financial technology. LendIt Fintech has become the largest event in financial services innovation as it hosts three annual conferences, LendIt Fintech USA, LendIt Fintech Europe, and Lang Di Fintech, and dozens of complementary online and in-person industry events. LendIt Fintech also owns and operates one of the world's leading industry educational channels, Lend Academy.