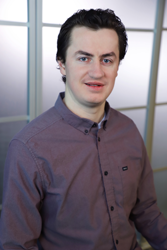 (PRWEB) April 13, 2018
Nomination Notice
Mr. Stéphane Labelle, Executive Vice President at ConstructBuy is pleased to announce the appointment of Mr. Rulon Allred as General Manager, United States.
After seven years as Partner Manager for PlanSwift LLC, located in Salt Lake City, Utah, USA, Mr. Allred, will officially take on his new role starting April 11, 2018, with the mandate of expanding ConstructBuy's market within the United States. "With his market knowledge, his leadership and his experience in the field, Mr. Allred is the ideal candidate to fill the position and he is a great addition to our already strong team.", says Stéphane Labelle.
Mr. Allred, who will operate from the US office of the Canadian company, states:
"It is a great opportunity for me to be able to join a team of dedicated people at ConstructBuy. I am excited about the product and how it will help the construction industry. The vision of the company and its leaders is something I truly believe in."
About ConstructBuy
ConstructBuy is a North American leader in the field of computer technologies in the construction industry. Through its bid solicitation, project management and estimating solutions, the Victoriaville, Quebec, Canada-based company has earned a leading position in the industry across North America.