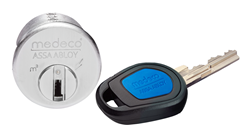 Medeco CLIQ is an intelligent key locking and access control solution that combines electronic and mechanical technologies, yet can be programmed and managed with cloud-based software
SALEM, Va. (PRWEB) April 12, 2018
The GOVIES Awards honor outstanding government security products in a variety of categories. The Medeco CLIQ Intelligent Key System won gold in the Locks and Locking Systems category.
"Medeco CLIQ is an intelligent key locking and access control solution that combines electronic and mechanical technologies," said Ashok Acharya, Medeco CLIQ product line manager. "The CLIQ key looks like a mechanical key, yet it can be programmed and managed with cloud-based software. It also powers the CLIQ cylinder, which installs quickly and easily without the need for wiring, power supply or changes to existing door hardware."
The Medeco CLIQ Intelligent Key System offers smart solutions for real issues:

CLIQ provides controlled access. Keys are electronically programmed to open only specific locks during a designated schedule.
Audit information is recorded in both the lock and key and shows a time-and date-stamped record of every event, including authorized and unauthorized attempts.
CLIQ eliminates the expense of physically rekeying locks and replacing keys, so users can respond quickly to security threats, lost or stolen keys or personnel changes without the added cost of changing locks and keys. All rekeying is done electronically through the reprogramming of keys.
Attack-resistant design and tamper-proof features provide strong protection against forced entry.
Medeco's cloud-based CLIQ Web Manager software contains tools that will help users manage their security more efficiently with flexible programming, scheduled access and full audit reports.
Medeco CLIQ cylinders are available to fit nearly any application or hardware type for - enhanced security and accountability.
"The CLIQ Intelligent Key System is also available with Bluetooth (BLE) enabled 'CLIQ Connect' keys," added Acharya. "With our CLIQ Connect Keys and CLIQ Connect App, users can quickly and easily update keys with their smartphone. Key audit data is automatically sent to CLIQ Web Manager Software. Medeco CLIQ truly is an intelligent key system."
"The Govies is an amazing product recognition program whereby companies in the security industry can highlight their technology and solutions that work flawlessly within the government vertical," said Ralph C. Jensen, editor-in-chief of GovSec and Security Today magazines and securitytoday.com. "The high number of entries we receive each year corresponds with the need to provide better security options not only at the federal level but also at the state and municipal level of government. I believe these products and solutions only prove that the government relies heavily on the technology advances in the private sector."
About Medeco:
Founded in 1968 and based in Salem, Va., Medeco is a market leader in mechanical and electronic locks and locking systems for security, safety, and control. The company's customer base includes wholesale and retail security providers, original equipment manufacturers, and institutional, commercial, industrial, and residential end-users. Visit http://www.medeco.com for additional information.
About ASSA ABLOY:
ASSA ABLOY is the global leader in door opening solutions, dedicated to satisfying end-user demands for security, safety and convenience. For more information, visit http://www.assaabloy.com.
About 1105 Media's Infrastructure Solutions Group:
1105 Media's Infrastructure Solutions Group includes several leading industry media brands that provide new product and technology solutions for security professionals: Security Today, securitytoday.com, GovSec, Campus Security & Life Safety, campuslifesecurity.com, Networking Security, Dealer Strategies, and infrastructuresolutions.com. The brands' print, digital, custom media and research products integrate physical and IT security coverage and provide the smartest, most cost-effective solutions for reaching security decision makers.
Contact:
Ashok Acharya
Medeco CLIQ Product Line Manager
ashok.acharya(at)assaabloy.com