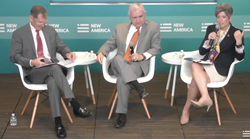 "A successful national security strategy will require more from Special Operations Forces (SOF) and their partner nation forces than ever before." - 2018 SOF Imperatives
TAMPA, Fla. (PRWEB) April 11, 2018
Since 2015, the Global Special Operations Forces (SOF) Foundation, a non-profit organization based in Tampa, Fla., has released an annual SOF Imperatives document that aims to educate U.S. policymakers on the critical issues facing U.S. SOF.
The Foundation has just unveiled the 2018 edition of this document, which at just four pages long, provides a digestible summary of these high-priority issues–along with recommended actions. The topics cover the full SOF spectrum: strategy, training and readiness, support to operations, aviation, maritime, and needed studies.
The strategic section hits topics like the need to elevate the Assistant Secretary of Defense for Special Operations and Low Intensity Conflict, also known as the ASD/SOLIC, to an Undersecretary of Defense position. Within the training and readiness section, there is a call for full funding of the Preservation of the Force and Family (POTFF) and Warrior Care Coalition programs, both of which work to keep our operators healthy and in the fight.
In the more operationally-focused sections, recommendations range from a need for more robust intelligence assets, to the development of an International SOF Aviation Training Center, to increases to stealth maritime combatant crafts with trained crews.
Lastly, the reports and studies section covers a need to assess outdated material solutions, protection from cyber-attacks, and maritime SOF's interoperability with larger naval vessels.
Unsurprisingly, no single person has current insight and experience in all of these topics; therefore the Global SOF Foundation receives input for the SOF Imperatives from a range of sources.
One of those sources is the SOF Imperatives Survey, which is modified and released annually in the Fall and contains nearly 30 questions covering these topics and more. The Global SOF Foundation sends this survey out across the U.S. SOF community to current operators, SOF support, former SOF, and others with access to this elite community. While many of the questions are Likert scales (strongly agree, strongly disagree, etc.), there is also ample opportunity for qualitative input and comments, which results in a lot of data.
Global SOF Foundation staff and volunteers assess the results, which are then combined with the year's conversations, open source resources, and input from this extensive community to develop the resultant SOF Imperatives summary document. This document is not classified, and a white paper can be provided upon request in support of each individual bullet.
"This is our best SOF Imperatives document yet, " said Global SOF President Stu Bradin. "Each year we get better because our survey gets better and we get more responses across the board."
The Foundation uses this document in educational discussions with U.S. policymakers, working to ensure that SOF is fully resourced and enabled to complete its innumerable missions.
The Global Special Operations Forces (SOF) Foundation (GSF) is a 501(c)(3) non-profit organization that aims to build and grow an international SOF network of military, government, commercial, and educational stakeholders in order to advance SOF capabilities and partnerships to confront global and networked threats.