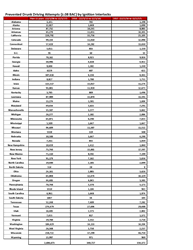 MADD National President Colleen Sheehey-Church: "Ignition interlocks are the key to eliminating the dangerous cycle of repeat drunk driving by forcing drivers to prove they are sober before their vehicles will start."
WASHINGTON (PRWEB) April 11, 2018
Today, Mothers Against Drunk Driving (MADD) is announcing the annual, state-by-state breakdown of drunk driving attempts prevented by ignition interlocks, just as Iowa becomes the 32nd state to enact a law requiring or highly incentivizing the devices for all drunk driving offenders.
Ignition interlocks prevent a vehicle from starting if alcohol is detected on the driver's breath. MADD believes this technology is the safest approach to protecting the public while allowing offenders to prove that they will not drive drunk again. Each attempt to drive drunk is recorded by the device — and the results are startling.
"We know that in 2017 alone, the potential for a drunk driver to kill or injure someone was stopped more than 300,000 times, which confirms that drunk driving is a national public health crisis," said MADD National President Colleen Sheehey-Church. "Drunk driving is devastating, preventable and the leading killer on our roads. Ignition interlocks are the key to eliminating the dangerous cycle of repeat drunk driving by forcing drivers to prove they are sober before their vehicles will start."
MADD launched a national movement in 2006 to pass ignition interlocks for all drunk driving offenders as part of the Campaign to Eliminate Drunk Driving. At the time, New Mexico was the only state with an all-offender ignition interlock law. With the new law signed today in Iowa, and a similar law signed two weeks ago in Idaho, the number of states with these laws has climbed to 32, along with Washington, D.C.
According to the Centers for Disease Control and Prevention (CDC), all-offender interlock laws reduce drunk driving recidivism by 67 percent. A new study by the Insurance Institute for Highway Safety found interlocks reduce the number of impaired drivers in fatal crashes by 16 percent.
"The evidence supporting ignition interlocks just keeps stacking up, which is why MADD is pushing for all-offender ignition interlock laws in all 50 states," Sheehey-Church said. "We are going to push hard in the remaining 18 states to pass laws that we know will save lives. All you have to do is look at the numbers to see that even with an ignition interlock, people continue to try to drink and drive after being caught and ordered not to. I can only imagine how many more tragedies will be prevented as we get more offenders using ignition interlocks in every state."
MADD has collected the number of drunk driving attempts that were prevented by ignition interlocks to better understand their effectiveness. Below is a state-by-state total for 2017, 2016 and for the past 11 years. Since December 2006, ignition interlocks stopped a drunk driver nearly 2.69 million times.
For a state-by-state breakdown, please see the attached chart (Source: Draeger, Intoxalock, LMG, Smart Start, Simple IID, Sensolock, ACS, Blow and Drive, ADS)
For more information on ignition interlocks, visit madd.org/interlock.
About Mothers Against Drunk Driving
Founded in 1980 by a mother whose daughter was killed by a drunk driver, Mothers Against Drunk Driving® (MADD) is the nation's largest nonprofit working to end drunk driving, help fight drugged driving, support the victims of these violent crimes and prevent underage drinking. MADD has helped to save more than 350,000 lives, reduce drunk driving deaths by more than 50 percent and promote designating a non-drinking driver. MADD's Campaign to Eliminate Drunk Driving® calls for law enforcement support, ignition interlocks for all offenders and advanced vehicle technology. MADD has provided supportive services to nearly one million drunk and drugged driving victims and survivors at no charge through local victim advocates and the 24-Hour Victim Help Line 1-877-MADD-HELP. Visit http://www.madd.org or call 1-877-ASK-MADD.