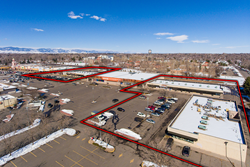 "This is a prime value-add opportunity for retail investors or redevelopers,"
LAKEWOOD, Colo. (PRWEB) April 16, 2018
DENVER, CO RETAIL PROPERTY BANKRUPTCY
Chicago, IL – NRC Realty & Capital Advisors, LLC (NRC) announced the bankruptcy trustee auction today of 6451, 6553 and 6579 West Colfax Ave., Lakewood, Colorado, just west of downtown Denver. The property is being sold in bulk in a 363-bankruptcy sale, with sealed bids due May 30th, and consists of a 15-unit three building retail strip center with 42,886 square feet of leasable retail space on 3.49 acres.
The Property is in the midst of high growth transit oriented development area following the emergence of the light rail system in 2014 and is strategically located two blocks north of the Lamar Station. It is also adjacent to Lamar Station Plaza shopping center, featuring the iconic Casa Bonita restaurant drawing 500,000 dinners a year. Lamar Station Plaza has benefited from the area's growth and has seen its occupancy grow by 20% in recent years.
"This is a prime value-add opportunity for retail investors or redevelopers," commented David Levy, the broker coordinating the sale. "Currently 12 of the units are leased with tenants that include a Family Dollar store, various restaurants and neighborhood businesses," Levy said. The property is currently operating at 69% occupancy and 8 of the tenant leases expire within the next two years. Two of the buildings are separated by a vacant single-tenant retail property, with common parking lots, which was previously the home of the Rocky Mountain College of Art and Design.
"The properties are being sold through an auction process that requires bidders to submit written sealed bids", accordingly to Levy. NRC has due diligence information available for download and other sale information on its website http://www.nrc.com/1805 or calling NRC customer service at 800-747-3342, ext. 1805.
Sale subject to approval by the trustee and bankruptcy court.
About NRC
NRC Realty & Capital Advisors, LLC provides a full array of real estate and financial advisory services and specializes in the accelerated sale of commercial real estate. Since its inception in 1989, NRC has sold more than 15,000 properties for major lenders, bankruptcy courts, governmental agencies, trustees, receivers and investors and developers throughout the country.
David Levy, CCIM
Vice President
NRC Realty & Capital Advisors, LLC
445 W. Erie Street, Suite 210
Chicago, Illinois 60654
c: 312.278.6870
david.levy(at)nrc(dot)com