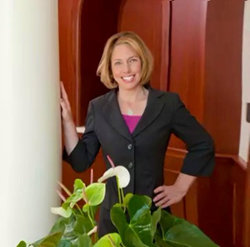 ST. PETERSBURG, Fla. (PRWEB) April 16, 2018
On Jan. 24, 2018, after deliberating for less than half a day, a federal jury in Madison, Wisconsin found Chinese wind turbine manufacturer Sinovel Wind Group Co. Ltd. guilty on all counts of stealing the software technology of AMSC, a U.S. company. This is the first time that a Chinese company has been charged and convicted of crimes in a U.S. federal criminal court.1 The stealing of other countries' technology and military secrets has gone on throughout history, a form of attempted corporate or government homicide. Thrive Law founder Jamie Moore Marcario points out that the Massachusetts-based AMSC lost approximately $1.2 billion and more than 600 jobs. "It's too soon to determine whether the court actions will deter the IP theft, but the U.S. government is correct to focus on IP theft as a serious threat to the nation's economy."
On the global level, the theft of IP and other business confidential information steals from a nation's future. Intellectual property contributes $1.2 trillion to the U.S. economy annually. IP-intensive industries help generate approximately 45 million jobs across the U.S. It is a theft of future national security, future wealth creation for companies, future tax revenues and future high-paying jobs and standards of living for a nation's citizens —costing the U.S. economy $300 billion annually.2
Marcario, an intellectual property and small business general counsel attorney in Tampa Bay, who helps protect the intellectual property rights of small businesses, artists, musicians, writers, and other creators, feels that in the modern digital economy, IP piracy is becoming more widespread because having an online presence equals marketability. The need to make some version of property available online in some format is balanced against the reality that it is easy for consumers to download and copy anything that is there.
Recently the Associated Press reported on an event where Russian hackers infiltrated several U.S. corporations, attempting to steal drone technologies used by the U.S. military. Such cyberattacks seek to acquire technical leadership for nations lacking the investments, human talent or other foundational elements associated with technical innovation.3 "In short, the organizations feel entitled, a common thread among theft of intellectual property both on a global level and personal level," notes Marcario. "Surprisingly, the tip of the iceberg is that there is far more piracy going on perhaps accidentally in the United States than many other countries."
Intellectual property or IP is really an idea, a product of the human intellect that should be protected—ideas in the form of invention, visual art, musical art or other written work, product or literary work.4 In the U.S. "Free" Software clouds the definition of free by often seeking compensation when consumers improperly give attribution. The fine print reveals that some free software licenses are copyleft and require several conditions to be met for legal distribution.5 In the fashion industry, designers with XYZ Workshop created a dress, reproduced it intentionally on a 3D printer and distributed it online in order to enjoy its proliferation among like-minded makers. The question is then raised "How far will this go?" 6
The very fact that it is on the Internet makes consumers feel a sense of entitlement; that it's there for the taking. In the digital age there's the popular notion that if a file is on YouTube, Spotify or some other platform, it doesn't belong to any one person, entity or cause. The property is then presumed OK to share, download, post, or use for one's own consumption. That is completely wrong. Marcario points out from experience that "often a cease and desist letter or legal take down notice is the first inkling that it's not ok." 7
According to Marcario, the three intellectual property law best practices to avoid piracy on a personal, artistic and small business scale are to:
1. Put your material out on the Internet in a low-resolution format making it difficult to reuse that material if it's downloaded and embedded.
2. Use a digital watermark in the visual work that will render the work unable to be copied —some robust watermarks can actually track where your material goes and who downloaded it.
3. Register your work with either the U.S. Copyright Office (if it's a visual work, a musical work or a type of code or a literary work, including things like a blog) or the U.S. Patent and Trademark Office if it's an invention or aesthetic such as a brand logo you're trying to protect.
Registering with the U.S. Patent and Trademark Office or the U.S. Copyright Office is the first step to putting the world on notice that you're the owner. The burden of proof lies with the creator to prove that you have a better claim to your work than someone else.
About Thrive Law
Thrive Law helps creatives and entrepreneurs overcome legal obstacles so that they can be free to do what they love—write, perform, act, paint, compose and innovate creatively. The firm, led by Jamie Moore Marcario, transforms artistic and entrepreneurial endeavors into an "artrepreneurial" business by identifying and protecting creative works. Leveraging its collective experience in the arts and intellectual property protection, Thrive Law identifies and safeguards trademarks and copyrights, while also navigating the maze of financial, tax and insurance details that often stymie and paralyze big ideas. Services are tailored to clients' needs and budgets, regardless of where they are in their business growth. For more information, contact http://www.thrivelaw.com
1. Mayers, Josh. "Catching a Chinese IP Thief: How the FBI Tracked and Caught Sinovel." The Cipher Brief. 5 April 2018. Web.
2. Croom, Sara. "Moving Forward by Protecting Intellectual Property." The Hill. 13 January 2018. Web.
3. Grobman, Steve. "When Nation-States Hack the Private Sector for Intellectual Property." The Hill. 31 March 2018. Web.
4. Staff Writer. "Intellectual Property Defined." Cornell Law School.edu. Web.
5. Ohrstrom, Fredrik. "Supplying Legal Notices for Free Software in your Products." IP Watchdog. 2 December 2017. Web.
6. Goehrke, Sarah Anderson. "Accidental Infringement: A Cautionary Tale of 3D Design & Intellectual Property." 3D Print.com. 17 December 2015. Web.
7. Burk, David. "Intellectual Property: Who Owns What?" Jamie Moore Marcario interview. American Café. Voice of America radio. 4 April 2018. Web.