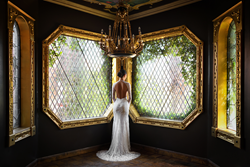 We chose Las Vegas as our home as it's such a liveable city, so easy to travel in and out from and are attracted to the thriving creative community.
LAS VEGAS (PRWEB) April 12, 2018
Born and raised in Australia and of Greek heritage, Jerry Ghionis, widely regarded as one of the top five best wedding photographers in the world, has made Las Vegas his home base with his US-born wife and photographer, Melissa Ghionis, who between them speak five languages. "We chose Las Vegas as our home as it's such a liveable city, so easy to travel in and out from and are attracted to the thriving creative community," said Jerry.
A Nikon ambassador, Jerry was chosen to launch and represent the wedding and fashion industries for Nikon's landmark D850 camera campaign. The global campaign featured Las Vegas locations and featured local models and performers.
In fact, Jerry is the most awarded photographer of the Wedding & Portrait Photographers International organization (WPPI) and became their first Grand Master, which is their highest honor. He has won their International Wedding Album of the Year award for an unprecedented nine times and WPPI also included him in its top five wedding photographers in the world.
During the course of his illustrious 25-year career, Jerry, who is also a photography instructor, has emerged as one of the most influential wedding photographers worldwide. With the flair of a fashion designer and the ingenuity of an architect, his unique style is best described as vintage glamour meets contemporary fashion. His love and empathy for people creates powerful visual storytelling, which helps capture natural magic on a wedding day.
"Whether I'm shooting a wedding, glamour session, lifestyle portrait or boudoir beauty, I love bringing out the best in people," Jerry said.
Jerry is also the creator of Jerry Ghionis Photography Training, a photography training website which he launched in 2008; designed the Ice Light, a revolutionary LED continuous light; and also designed the Omega Reflector, the world's first 15-in-1 shoot-through reflector.
In addition to photography, one of his greatest passions is helping people in need, which is why he and wife, Melissa, created the non-profit charity the Soul Society. The charity was created with the purpose of caring for the poor, homeless and orphaned children in third world countries, one soul at a time.
About Jerry Ghionis
Jerry is taking the experience of photography to a whole new level by bringing a very special experience to his clients. He not only has the ability to capture the natural magic on a wedding day or at a portrait session but he creates magic of his own. Jerry is available for photography assignments anywhere in the world. For more information, please call +1(866) 505-3064 in the US or visit http://www.jerryghionisphotography.com.
About the NALA™
The NALA offers small and medium-sized businesses effective ways to reach customers through new media. As a single-agency source, the NALA helps businesses flourish in their local community. The NALA's mission is to promote a business' relevant and newsworthy events and achievements, both online and through traditional media. The information and content in this article are not in conjunction with the views of the NALA. For media inquiries, please call 805.650.6121, ext. 361.