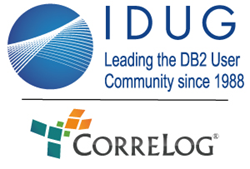 Db2 data contains the most valuable data stored on mainframes. It is the primary target for cyberthieves and organizations must monitor all accesses of Db2 and z/OS activity.
NAPLES, Fla. (PRWEB) April 12, 2018
CorreLog, Inc., the leader in multi-platform IT security event log management, today announced sponsorship for the 2018 IDUG Tech Conference in Philadelphia, Pennsylvania on April 29 - May 3. CorreLog will be hosting live demonstrations of the latest release for dbDefender™ for Db2, version 1.7, at booth number 209. The IDUG Tech Conference is an opportunity for IBM® Db2® professionals to increase their understanding of emerging data technologies such as Big Data and analytics, machine learning, performance enterprise architectures, and more.
"We are excited to once again be one of the expert resources for attendees at the IDUG Conference in Philadelphia," said George Faucher, CorreLog president and CEO. "Db2 contains the most valuable data stored on mainframes. It is the primary target for cyberthieves and organizations must monitor all accesses of Db2 and z/OS activity. dbDefender™, along with our zDefender™ product, extends the benefits of the SIEM system most organizations already have in place to include real-time visibility for all user activity on z/OS."
This year, CorreLog will again host a guest appearance from Db2 expert and database architect Craig S. Mullins in booth number 209, to answer questions about database performance management and security. Attendees who stop by can purchase Mullins' book, "Database Administration: The Complete Guide to DBA Practices and Procedures" and enter a raffle to win one of four signed copies. For more information on Craig S. Mullins' work with Db2 click here.
Craig S. Mullins Participation in CorreLog Booth

When: Tuesday, May 1, 2018 – Wednesday, May 2, 2018
Times: 12:00 p.m. – 1:00 p.m.
Where: CorreLog booth #209 | IDUG Philadelphia, PA
Who: Craig S. Mullins | Website
The majority of Fortune 500 companies, including most of the world's top insurance providers, retailers, and banks, depend on IBM® Db2® to store their data, according to IBM's website. In response to cyber-threats continuing to gravitate towards the most valuable data, CorreLog recently unveiled a new release of dbDefender™ for Db2, version 1.7. The newest release delivers up-to-the-second Db2 security alerts to zDefender™ Visualizer for z/OS, CorreLog's SIEM Correlation Server for Windows/UNIX, or any name-brand Security Information & Event Management (SIEM) system. With dbDefender™ security admins now have up-to-the-second visibility that includes a host of user events centered around attempts to view or access the secure state of your Db2 environment.
CorreLog at IDUG 2018
When: April 29,2018 - May 3, 2018
Where: Philadelphia, Pennsylvania
Venue: Loews Philadelphia Hotel
CorreLog Booth: #209
More Info: Event Website
About IDUG
The International DB2 Users Group (IDUG®) is an independent, not-for-profit, user-run organization whose mission is to support and strengthen the information services community by providing the highest quality education and services designed to promote the effective utilization of DB2. For more information visit IDUG.org.
About CorreLog
Since 2007, CorreLog, Inc. has been committed to delivering software solutions for Security and Compliance auditing professionals who need more advanced network/system security and improved adherence to GDPR, PCI DSS, HIPAA, SOX, FISMA, GDPR, ISO 27001, IRS Pub. 1075, NERC and other industry standards and laws for protecting data. Our solutions are designed to be complementary to clients' existing IT investments.
CorreLog specializes in providing the most comprehensive Security & Compliance software at the industry's lowest Total Cost of Ownership. Our solutions help secure data across both mainframe and distributed operating systems and provide alerts with notifications in real-time to security and network operations resources. CorreLog has worked with companies across Fortune 500 to SMB class who all benefit from our ease of installation and highly interoperable approach to building software that is simple to use and master, out of the box. Our customers are up and running with monitoring and alerts within just a few hours, versus weeks or even months with competing enterprise vendor solutions. Our software agent monitoring technology spans from Windows, Linux, UNIX, Mac, SAP, and databases all the way up to the largest mainframes running IBM® z/OS®, Linux on z Systems, IBM® Db2, IBM® IMS™, and IBM® z/VM.
CorreLog has installed software and framework components used successfully by hundreds of commercial and government organizations worldwide. Our core solutions provide visibility on privileged-user activity, data integrity, FIM and application activity that may hold evidence of cyber threat, and in real time, we notify security personnel with alerts in accordance with compliance standards. For more information on CorreLog, please visit CorreLog.com.