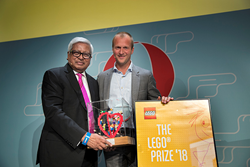 At BRAC, we pride ourselves on taking an innovative approach to early childhood development and education, and we share the LEGO Foundation's passion for learning through play.
BILLUND, Denmark (PRWEB) April 12, 2018
Sir Fazle Hasan Abed, founder and chairperson of BRAC, on Tuesday was awarded the prestigious 2018 LEGO Prize in recognition of his extraordinary contribution to improving the lives of children and their opportunities to play, learn and develop.
First awarded in 1985, the LEGO Foundation, a Danish corporate foundation, bestows the prize on individuals and organizations committed to the lives of children that champion learning through play. A cash award of $100,000, which will be used to advance BRAC's support of children living with neuro-development disabilities (NDD) and their families, accompanies the prize.
"It is an honor to receive the esteemed LEGO Prize. Every child deserves the opportunity to grow and develop. This generous financial contribution will support the holistic development of an underserved group of children in Bangladesh with special needs," said Sir Fazle Hasan Abed.
From the beginning of his career and the establishment of BRAC, Sir Fazle has viewed education as a crucial catalyst for change. His belief that education is about more than just schools and books is reflected in the constant innovation that is a cornerstone of BRAC's approach. Since launching its education program in Bangladesh in 1985, more than 11 million children have graduated from BRAC's primary and pre-primary schools.
In partnership with the LEGO Foundation, BRAC has set up more than 1,400 play-based early childhood development centers, known as Play Labs, across Bangladesh, Tanzania, and Uganda, where close to 40,000 children aged 1 to 5 years are enrolled. In the Play Labs, pre-school children have access to age-appropriate play materials, a play-based curriculum, and play spaces that ensure their holistic development. Play Labs also connect parents and caregivers with their children through regular play sessions while creating livelihood opportunities for young women from the community by training them as Play Leaders.
"At BRAC, we pride ourselves on taking an innovative approach to early childhood development and education, and we share the LEGO Foundation's passion for learning through play. Through our Play Lab program, we have seen first-hand the power it can have in a child's development," added Sir Fazle Hasan Abed.
Finnish educator and scholar Pasi Sahlberg, education expert and president of Reggio Children Carla Rinaldi, and the founder of Right To Play International, Johann Koss, are among the earlier winners of the LEGO Prize.
In addition to its early childhood development centers, BRAC operates some 10,000 pre-primary schools, 3,200 non-formal primary schools, 8,700 primary schools, and a university.
NOTES TO THE EDITOR:
For interview requests and additional information, please contact a member of our communications team below:
US
Emily Coppel, Communications Manager
Office: +1 (212) 808-5615
Email: emily(at)bracusa(dot)org
UK
Chris Lyne, Communications Manager
Office: +44 (0)203 434 3072
Email: chris(at)bracuk(dot)net
Bangladesh
Moutushi Kabir, Director of Communications and Outreach
Office: +8801708812616
Email: moutushi(dot)kabir(at)brac(dot)net
About BRAC
BRAC was ranked the #1 NGO in the world in 2016, 2017, and 2018, by NGO Advisor. The New York Times' Nicholas Kristof calls BRAC "the best aid group you've never heard of." Founded in Bangladesh in 1972, today BRAC is a global leader in developing cost-effective, evidence-based poverty innovations in extremely poor, conflict-prone and post-disaster settings. These include programs in education, healthcare, microfinance, girls' empowerment, agriculture, human and legal rights, socially responsible businesses, a bank, a university, and the world's largest mobile money platform. In 2016, BRAC employed more than 110,000 people in 11 countries, with a total global expenditure of more than $1 billion.
About BRAC USA
Based in New York, BRAC USA is the U.S. affiliate of BRAC, formed in 2006 to advance and support BRAC's global mission to create opportunities for people to realize their potential. BRAC USA provides comprehensive support to BRAC around the world by raising awareness about its work and mobilizing resources to support programs.
About LEGO Foundation
The LEGO Foundation aims to inspire and develop the builders of tomorrow; a mission that it shares with the LEGO Group. The LEGO Foundation is dedicated to building a future where learning through play empowers children to become creative, engaged, lifelong learners. Its work is about re-defining play and re-imagining learning. In collaboration with thought leaders, influencers, educators and parents the LEGO Foundation aims to equip, inspire and activate champions for play.