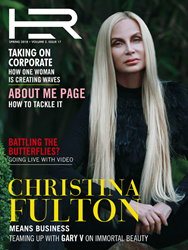 LOS ANGELES (PRWEB) April 11, 2018
Christina Fulton, Entrepreneur and CEO of Immortal Beauty skincare, gives HER magazine an exclusive interview to reveal why she has reinvented herself once again. She chose to share her journey and next big move with HER magazine because of their focus on the pioneering achievements of today's women and that is what Fulton prides herself on.
Since she can remember, Fulton has been obsessed with health and fitness. This is attributed to her family's lineage to both worlds, especially her father's dynamic experience, playing basketball for the Los Angeles Lakers and, later, becoming a chemical engineer. Fulton found herself following her father's footsteps and excelling in both sectors. She brought together her knowledge in the science of health and her athleticism to become a "leader in skin fitness." She is a fitness goddess and a practice of her preaching; she teaches inspirational, high-energy cycling in the famous Hollywood studio, Crunch. Today, Fulton brings her health to the forefront and is now taking on the world of anti-aging from Beverly Hills! She has joined forces with Japanese titan, Iki Sakakura, to create a technology-advanced anti-aging disruptor, called Immortal Beauty skincare. The unique, Japanese-inspired skincare line is unlike anything on the market today. Immortal Beauty will launch on their e-commerce website and at exclusive retailers at the end of 2018.
In Fulton's HER Magazine feature, she talks about the importance of philanthropy in her life, in addition to her endeavors as an entrepreneur. For years, she has been lending a generous hand to many people, movements, and foundations. Fulton proudly says that "she was philanthropic when it wasn't fun or cool." She wanted to help those in need because she wanted to, not because it was a trend. In 2006, she created the Single Mom Foundation, a charity that provides funding and opportunities to help make dreams come true for single mothers across the USA. She later partnered with her son, Weston Coppola Cage, to create a charitable clothing line, called FULCAGE, to support the Single Mom Foundation. She later received an award from Casa Teresa's Southern California's woman's shelter for her advocacy and contribution to underprivileged single woman. This was just the tip of the iceberg.
For over a decade, Fulton, the self-named "Hollywood underdog," fundraised and grew awareness for multiple foundations including Help Stop The Bully (a foundation determined to take control back from bullies), Haven Hills (a highly-respected abused-women's shelters in Southern California), Hats Off For Cancer (a movement that provides hats for children who have lost their hair as a result of cancer), Safe Passage (a foundation that breaks the cycle of domestic abuse by healing and empowering women), and many more.
Christina's love of philanthropy and acting came together in the creation of her TV and talk show, Playing it Forward. She hosts this weekly one-hour show to highlight the most philanthropic people in the world, providing audiences different perspectives on giving back and getting involved in the community. In addition to her web show, Fulton has been a screen actress in 16 films, where she's worked with Hollywood giants including Oliver Stone, Brian De Palma, and Francis Ford Coppola. Fulton's motivation to create inspires all facets of her life. Her vast experience in beauty, fitness, film, music, and ability to help others marks her a true modern day superhero.
Later this spring, Fulton and HER magazine, are uniting to create an event around inspirational women that are speaking up for what they believe in and making the necessary change needed in the world today. Fulton and Madsen are two inspirational sisters about to crush the next level of what it means to be a female entrepreneur today. They both believe in the power of women supporting each other to make the difference they want to see in the world.
About Christina Fulton
Christina Fulton is an entrepreneur, mother, actress, recording artist, public figure, Inventor, athlete, expert, culture hacker, philanthropist, and a modern day super hero. To learn more about her full experience, please visit her website and Instagram.