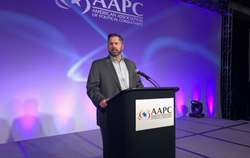 Medici in the first of several new executive hires as PayClearly expands its offerings and benefits to additional markets.
LAKELAND, Fla. (PRWEB) April 12, 2018
PayClearly, a global payments solution for businesses, today announced that digital media and advocacy veteran, JC Medici, has joined the company as VP of Strategic Sales. Medici joins PayClearly to grow its newly established political media vertical by working with agencies, publishers and demand-side platforms (DSPs) to help them improve the process of paying for media campaigns.
Both politics and the media industry are full of unique intricacies and nuances that require specialized knowledge to navigate. Through his deep understanding of the challenges both political agencies and media suppliers face, Medici will guide PayClearly through this new stage in their business.
"As we expand our media payments services, it's important for us to bring industry leaders, like JC, into PayClearly that have expertise outside of the financial world," said John Jamieson, Senior Vice President of Strategic Sales at PayClearly. "We're excited about JC because he is helping us look at the problems agencies face through a more strategic lens so that we can better serve our political clients with our custom solution."
Throughout his 18 year digital and advertising career, Medici has helped bring several new technologies and techniques to fruition to propel the overall political advertising industry into a place where data, online, and offline campaigning, are all strategically working in conjunction with one another. Medici joins PayClearly after holding several prominent media roles, including National Director of Politics and Advocacy at Rocket Fuel. As head of Rocket Fuel's political operation, Medici launched precise, performance-driven campaigns for an array of clients including influential advocacy groups, candidates, Super PACs, and national grassroots organizations. His experience also includes work at political marketing agencies and media firms such as Throtle, Collective, quadrantONE, and Winstar Interactive.
"After focusing solely on political and advocacy for the past six years, I've seen the challenges political media agencies face with quick deployment and rapid response — which brand agencies never encounter," said Medici. "PayClearly is on a mission to improve that process for the entire vertical and I am confident that we've built a custom solution that solves these challenges. I'm honored to be a part of bringing this solution to life ahead of the 2018 election cycle."
Medici in the first of several new executive hires as the company expands its offerings and benefits to additional markets. For more information about PayClearly and its payments solution, please visit http://www.payclearly.com.
About PayClearly
PayClearly is a global leader in payment issuing, card processing and other payment solutions that help companies scale more easily. Through the efforts of dedicated sales, development, and support teams in 4 cities across the United States and a network of issuing and acquiring partners operating in over 210 countries, PayClearly provides its clients and partners with streamlined payment solutions that significantly reduce costs and provide valuable business operations improvements.