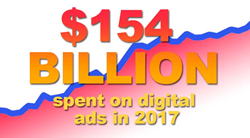 We do great work and our clients know it, but this (Clutch's rating) is something quantifiable that potential clients can see. It's an objective, third-party testament to the amazing work we do for every client—and will do for those we haven't worked with yet.
LOS ANGELES (PRWEB) April 13, 2018
Throw a stone anywhere in Los Angeles and odds are you'll hit a video production company. A Google search for "video production company los angeles" returns 31,900,000 results. Trying to find that stellar production house can be overwhelming. That's why JMaverick Studios (video production website) is proud to have been chosen as one of Los Angeles' top video production companies by Clutch.
Clutch is a ratings and reviews platform that ranks B2B service providers according to their ability to deliver unique, strategic services that help clients achieve their goals. Using a complex research methodology and in-depth client reviews, Clutch has already examined more than 7,000 creative agencies and production houses. In March, Clutch announced the leaders of their research across 5 major US cities and more than two dozen service categories including video production.
Because consumers are inundated with up to 4,000 ads per day, online, on television or radio, print or elsewhere, it's vitally important to brands to stand out from the pack. Hiring a professional video production company with a solid track record is the first step toward standing out from the crowd. https://youtu.be/W_-GINBSHy0
Statistics show that companies spent upwards of 154 billion dollars on digital ads and television advertising in 2017 so it's not surprising that video production has become resource that simply can't be overlooked or underused.
For companies that don't have the in-house resources to produce and implement a video marketing strategy, the situation is far from hopeless. At JMaverick Studios (video production website), their team has years of in-the-trenches work experience with a host of agencies and brands, producing engaging, professional videos, and now they've been recognized as a leading video production company in L.A. by Clutch.
To help them earn this award, several of their clients have spoken with Clutch about their work together, and JMaverick Studios has maintained an overall 4.9 (out of 5) star score.
Principal Jeremy Williams says he's proud to have helped his clients stand out among the 4,000 advertisements their markets see every day, and he's looking forward to telling more stories through video in 2018.