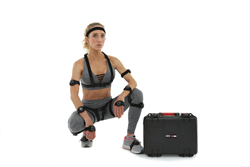 When we saw the Perception Neuron motion capture suit we realised how much potential it has for stage and live events, bringing a completely new dimension to the way audiences can experience live performance.
FRANKFURT, Germany (PRWEB) April 11, 2018
Noitom, the company that launched Perception Neuron—the world's most affordable motion capture system—is back in Europe attending the Prolight & Sound conference at the Messe Frankfurt—the world's largest trade fair, congress and event organizer, April 10th -13th.
During the 4-day show, Noitom will introduce their upcoming Perception Neuron PRO.
Like Perception Neuron 2.0, the new version is an IMU sensor-based full-body motion capture system that can record motion data anywhere without any constraints to space and without the need for optical cameras. Perception Neuron PRO is completely wireless and can be used in any lighting condition both indoors or out, without occlusion, cameras or line-of-site restrictions. With its ist a high tolerance to magnetic fields, and hardware that can withstand dynamic motion, Perception Neuron PRO offers a robust solution for professional filmmakers, animators, researchers and stage performers.
Perception Neuron PRO is a truly wireless system, with the data transmission taking place directly from the sensors to the hub. A 120 Hz maximum output rate will give users smooth and accurate data. Designed to be portable, Perception Neuron PRO comes with a hardshell anti-mag case for storing the motion capture suit and its accessories. One of the system's most important accessories is the "battery box" case that is used not only for storage of the sensors, but for calibration. The sensors are calibrated in a process where they are placed inside the box and the box is moved as the system directs. The box also works as a charging station where the sensors can be recharged all at once providing the convenience of continuous use.
The sensors themselves are enclosed in housing that then snaps onto the suit straps.
The housing also facilitates a button which can be used to turn the sensors on or off.
"We are always looking toward the future and thinking about what our audience might need next," says Roch Nakajima, president of Noitom International. "Perception Neuron PRO is aimed at creators seeking to capture intense motions for big-budget productions. PN PRO is designed to be a straightforward option for professional-level motion capture recording. Without optical cameras to set up, and without any limits to space and light, directors and animators can expect clean and accurate results that will match the scale of their project while saving on time and costs."
Perception Neuron PRO will make its official launch in Q2 2018 and will be available for purchase on the Perception Neuron online store.
"Prolight & Sound is the perfect event to introduce PN PRO," adds Nakajima, "the professionals who come to this show from the various media and entertainment industries will see the value in a robust, affordable and accurate motion capture system."
For a series of live demos during the show, Noitom will be joined by NOTCH VFX at the Green Hippo booth, Hall 4, Booth C31. Already known to some of the world's biggest artists and special effects supervisors, and compatible with media servers such as Green Hippo, NOTCH's stunning graphics rendering can be used in real-time motion during live performances. Combined with Perception Neuron's full body motion capture, NOTCH gives any performer or stage director the ability to produce compelling, WYSIWYG visual effects that integrate seamlessly with human motion to enhance live entertainment experiences.
The combination of Perception Neuron and NOTCH makes it possible to create low-cost production visual effects not just for big-name, big budget stage shows, but for productions of any scale. Both version 2.0 and the PRO version are compatible with NOTCH.
"We at Notch are always looking for ways to take live visuals to the next level and bring amazing new possibilities to show designers," says Matt Swoboda, founder of NOTCH. "When we saw the Perception Neuron motion capture suit we realised how much potential it has for stage and live events, bringing a completely new dimension to the way audiences can experience live performance. The setup is straightforward, there are no cameras or complex rigs involved and it's very reasonably priced - just strap it on to your stage performers, plug it in and see their motions translated to 3D"
Prolight + Sound will take place April 10th - 13th. Noitom will be located at Hall 4, Booth #B26. For more information about Prolight + Sound, please visit: https://pls.messefrankfurt.com/frankfurt/en.html.
For more about Perception Neuron, visit http://www.neuronmocap.com. To learn more about NOTCH VFX software, visit: https://www.notch.one/
Founded in 2011, Noitom Ltd. works with a team of dedicated engineers who develop world-class motion capture technology for consumer and industrial markets through the integration of MEMS sensors, pattern recognition, human kinetics and wireless transmission. Noitom is an international leader in innovative technology for use in animation, film, medical applications, robotics and gaming. Noitom is headquartered in Beijing with affiliate offices in Shenzhen, Shanghai, Phoenix, Los Angeles and Miami. For further information about Noitom and its services, please visit, http://www.noitom.com. For general inquiries, please email, info(at)noitom.com.