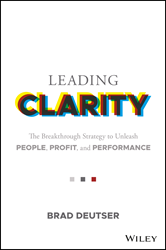 NEW YORK (PRWEB) April 12, 2018
While traditional business models are often driven by communication, strategy, culture and innovation, Leading Clarity puts forward a bold, time tested approach that weaves together the essential tools within an organization. Clarity is the governing force that both aligns and connects employee and company goals, objectives, expectations and outcomes. This replicable, reliable construct, which rises above and informs the traditional strategy, culture and communications, can be applied to businesses of all types, sizes and industries and drives measurable performance. It creates more engaged employees and customers, decreases turnover, drives results, and ensures safe workplaces.
Brad Deutser, President and CEO of Deutser, provides a framework and methodologies in his first book,Leading Clarity: The Breakthrough Strategy to Unleash People, Profit and Performance (April 03, 2018, Wiley, $25.00) to help align, focus and drive organizational performance through clarity. Informed by in-depth research conducted by Brad's team at Deutser, as well as decades of work with leaders from Fortune 500, public and privately held companies as well as non-profits and entrepreneurs, Leading Clarity introduces the secrets of Brad's methodology for creating clarity and helping leaders navigate chaos, uncertainty and ambiguity that is inherent in today's business environment.
"I am so fortunate to work with world-class leaders who embrace clarity and understand its infinite power," shared Brad Deutser, author of Leading Clarity. "Clarity has proven to save lives and change futures and I have long wanted to share the construct we have created outside our client base. Leading Clarity has provided a platform to provide insights, stories and tools that we use only with our clients before now. Sharing this book has been one of my greatest professional privileges."
Brad reveals his unique perspective and proven excellence to help his clients, and now readers, to realize maximum gains. With these powerful principles and stories of how to put them to work, readers can leverage the exponential impact of clarity. Clarity can help you:

Lead teams and individuals with clear direction and purpose
Go beyond traditional business approaches, and discover how "inside the box" thinking can lead readers to achieve their goals and vision by better understanding the parameters an organization is working within
Eliminate mediocrity, status quo, and fear that are symptomatic of deficiencies within an organization
Identify the impact drivers that keeps your employees happier, more engaged and performing at their peak
Infuse positivity into your organization's DNA as a profitability catalyst
"Brad Deutser's work on clarity is thought-provoking, challenging and insightful. He connects several key features of organizations that all too often seem separate, while persuasively conveying the need for such connections. Not only has he helped me think about the ways in which we work within our institution, he calls into question the traditional silos and functional orientation of business education, thinking, and practice," explained Jay Hartzell, Dean, McCombs School of Business at the University of Texas at Austin.
"Deutser has convinced me that CLARITY is the new necessity. It fundamentally alters the traditional business hierarchy and intertwines strategy, culture and communications in ways leaders have never before experienced. This powerful book gives you full access to operating in clarity," shared Tim Sanders, New York Times bestselling author of Love is the Killer App: How to Win Business and Influence Friends.
"Leading with confidence and certainty is increasingly difficult in the chaos of business today. With this book, Brad Deutser provides an answer every leader needs. Being in clarity establishes common ground, engages others, creates infinite possibilities and enables us to lead at our very best. It's brilliant in its simplicity, but powerful in its application. Leading Clarity is a leadership handbook you absolutely must have," continued Elise Mitchell, founder and chairman, Mitchell, CEO, Dentsu Aegis PR Network.
With Leading Clarity, Deutser is sharing the secrets of his proven process for success. These powerful principles and stories of how to put them to work teaches how to leverage the exponential impact of clarity.
Available for purchase on Amazon, Barnes & Noble and http://www.BradDeutser.com.
###
About the Author
Brad Deutser is the founder and CEO of Deutser, an award-winning management consulting firm focused on helping organizations and their leaders achieve clarity to drive business performance, and the Deutser Clarity Institute, a think tank, idea accelerator, and innovative learning center. He is also the author of Leading Clarity: A Breakthrough Strategy to Unleash People, Profit and Performance.
Deutser has transformed many prominent educational, healthcare, energy, industrial services, professional services, private equity, retail, and cause-based organizations through his unique perspective on organizational clarity. He is a leading business consultant, creative strategist, executive coach, and trusted counselor to top corporate leaders working to build great companies inside and out, especially during the turbulence of transition. To learn more about Brad and Deutser, please visit http://www.Deutser.com and http://www.BradDeutser.com.
About Deutser
Deutser is an innovative consulting firm focused on helping organizations and their leaders achieve clarity to drive business performance. As one of the premier consultancies in the industry, Deutser, with a team of business strategists, social scientists, organizational psychologists, innovation specialists and designers, restores organizational clarity through a unique and customized approach. By starting at the core of a company and working out to the exterior face of the brand, Deutser's inside-out thinking is informed by in-depth research and an acute awareness of leadership and culture, creating unconventional solutions with world-class design that improve organizational performance. Deutser was founded by Brad Deutser in Houston in 2001 and offers services in strategy, organizational and experiential design, culture, and communications. To learn more about Deutser, please visit http://www.deutser.com.