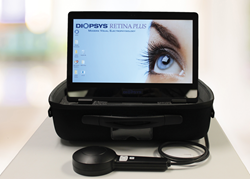 Electrophysiology testing is a proven & well-established mechanism for understanding the functional status of the retina with myriad applications in eye care. ERG has a role across the continuum of care, from establishing a diagnosis to following patients over time to determine response to treatment
PINE BROOK, N.J. (PRWEB) April 13, 2018
Diopsys Inc, the world leader in modern visual electrophysiology, is announcing the latest advancements in visual electrophysiology testing for the ophthalmic practice.
Diopsys will unveil two new additions to its portfolio at the American Society of Cataract and Refractive Surgery (ASCRS) meeting: the Diopsys® RETINA PLUS™, the most advanced flicker electroretinography (ERG) system, scalable to create a complete visual electrophysiology suite; and a multifocal electroretinography (mfERG) module for use with Diopsys® NOVA™, Diopsys® ARGOS™, or the new RETINA PLUS™ platforms. The additions will add powerful new tools to help eye care specialists gather objective, quantifiable information about the function of the retina.
Diopsys® RETINA PLUS™ is a carry-case sized device that offers clinicians a more convenient way to conduct flicker ERG testing, with the added ability to scale the system to a full visual electrophysiology suite, including multifocal, flash, and pattern ERG, as well as visual evoked potential (VEP). The new device complements existing cart-based (Diopsys® NOVA™) and tabletop (Diopsys® ARGOS™) systems in a robust portfolio of testing platforms intended to provide clinics of all sizes access to visual electrophysiology testing.
Diopsys® mfERG is a test of localized retinal function, which measures the electrophysiological activity of individual regions within the retina that span the central 42°. The test records responses primarily from bipolar cells combined with contributions from photoreceptor cells.1 With capability to detect retinal functional losses due to maculopathies, mfERG has several applications in eye care. The American Academy of Ophthalmology (AAO) recommends the use of mfERG for chloroquine (CQ) and hydroxychloroquine (HCQ) retinopathy screening.2
"Electrophysiology testing is a proven and well-established mechanism for understanding the functional status of the retina with myriad applications in eye care. ERG has a role across the continuum of care, from establishing a diagnosis to following patients over time to determine response to treatment. These latest offerings from Diopsys reaffirm the company's commitment to providing eye care specialists with accessible, intuitive testing platforms for monitoring the health of the retina," said William E. Sponsel, MD.
Diopsys will unveil the RETINA PLUS™ platform and mfERG module at the ASCRS meeting being held April 13-17 in Washington, DC. Interested attendees are invited to visit Diopsys at Booth #1220 in the Exhibition Hall to get more information and receive a personal demonstration.
About Diopsys
As the world leader in modern visual electrophysiology, Diopsys, Inc. (http://diopsys.com/) has done more than any other company to advance the use of electroretinography (ERG) and visual evoked potential (VEP) in the eye care practice. The company's unique, patented technology provides eye care professionals with objective, functional information about the health of the vision system to aid in the early detection of vision disorders, and post-treatment tracking for enhanced patient management.
1. Chan HH, Ng YF, Chu PH. Applications of the multifocal electroretinogram in the detection of glaucoma. Clin Exp Optom. 2011;94:247-58.
2. Marmor, Michael F. et al. Recommendations on Screening for Chloroquine and Hydroxychloroquine Retinopathy (2016 Revision). Ophthalmology. 2016; 123: 1386 - 1394