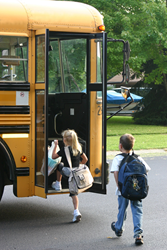 The NSTA and Zonar recognize the financial challenges school bus contractors face in their efforts equip their fleets with the leading edge technology systems, which is why we are committed to supporting this initiative in student safety
SEATTLE (PRWEB) April 16, 2018
Zonar, the leader in smart fleet management technology, together with the National School Transportation Association (NSTA), today announced that they are jointly sponsoring the annual Don Carnahan Memorial Grant opportunity for up to $50,000 in smart fleet hardware technology to Contractor members. This grant supports and promotes the improved safety, effectiveness and efficiency of pupil transportation programs in the United States and Canada, this will be the ninth year Zonar and the NSTA have partnered to offer the grant.  
"We're proud to be long time partners with Zonar because we know the impact of how technology can help improve student safety while on the road," said Tiffany Boykin, executive director of NSTA. "The NSTA and Zonar recognize the financial challenges school bus contractors face in their efforts equip their fleets with the leading edge technology systems, which is why we are committed to supporting this initiative in student safety."
The Zonar and NSTA Don Carnahan Memorial Grant gives school bus contractors the opportunity to utilize Zonar's industry-leading smart fleet management technology to provide information that effectively manages school bus operations. Grant recipients will receive fleet management technology including but not limited to: Electronic Verified Inspection Reporting (EVIR®), high-definition GPS fleet tracking with live delivery of vehicle performance, subsystem and diagnostic information in one simple-to-install device (V3™), student tracking (Z Pass™), Ground Traffic Control (GTC) web-based software and Coach.
"We know that NSTA members understand the value of having leading edge solutions to advance student safety and reduce business costs for the schools they serve," said H. Kevin Mest, senior vice president of business development for Zonar. "Our first priority at Zonar has always been the safety of passengers – especially students, which is why I was eager to serve as Vice Chair of the NSTA Safety & Security Committee this year."
The NSTA Safety & Security Committee aims to help members safely deliver students each day by providing safety best practices and helping them navigate through legislative changes impacting safety. The committee is also responsible for the planning and execution of the School Bus Driver International Safety Competition and for providing input to the government relations committee on issues impacting safety. In his role as the Vice Chair, Mest will help oversee the planning and execution of NSTA's School Bus Driver International Safety Competition, be involved with any safety and security issues that need to be addressed, and advise the NSTA Regulatory and Legislative Committees on safety and security issues.
To be considered for this Grant Award, applicants must be a current NSTA member at the time the application is submitted. Applications will be considered for full and partial grants for up to $50,000 in Hardware costs.
For more information on the Don Carnahan Memorial Grant or apply, visit http://www.yellowbuses.org/awards-and-grants/grants/zonar-grant/
About Zonar Founded in 2001, Zonar has pioneered smart fleet management solutions throughout vocational, pupil, mass transit and commercial trucking industries. Zonar helps fleets of all sizes maximize the use of their assets with solutions dedicated to improving compliance, efficiency, maintenance, ridership visibility, safety and tracking. Cloud-based services with open API's drive Zonar's smart fleet solutions by making it easy for fleet owners and managers to stay connected to their fleets and drivers and operators to dispatch. Headquartered in Seattle and majority-owned by technology company Continental, Zonar also has a Technology Development Center in downtown Seattle, a regional office in Cincinnati, and a distribution center outside of Atlanta. For more information about Zonar, go to http://www.zonarsystems.com
About NSTA The National School Transportation Association (NSTA) is the leading resource for school bus transportation solutions. Our member organizations will be recognized as proving the safest, most secure, environmentally-responsible and cost-effective school bus transportation services. NSTA and its members are dedicated to leading the school bus transportation industry through a commitment to: safety and security; cost-effective operations; high quality operating standards; professional integrity; environmental responsibility; education and promotion; community involvement and industry advocacy. For more information about NSTA, go to http://www.yellowbuses.org