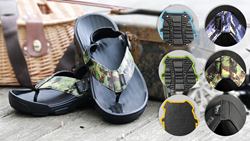 The FlipRocks' design has created a new class of outdoor footwear, with the most durable, flexible and technologically advanced flip flop on the market.
SANDY HOOK, Conn. (PRWEB) April 12, 2018
FlipRocks, the Extreme Flip Flop Company, today announced a partnership with Clean Trails to promote environmental stewardship. As part of the alliance, FlipRocks is providing discounts to Clean Trails members and also making a donation to the Clean Trails cause for every pair of Extreme Flip Flops sold to members.
Clean Trails is a non-profit organization founded by Steve Jewett and Bill Willoughby that has created a nation-wide alliance of trail stewards that educate and encourage visitors to take responsibility for their and others' actions. More than 1.5 million hikers, bikers, skiers, snow boarders and outdoor enthusiasts are Clean Trails members. The organization promotes national awareness for eliminating litter and waste on trails, parks and wild spaces through educational programs, national outreach, and partnerships with selected manufacturers of outdoor equipment.
FlipRocks has designed a new class of outdoor footwear with the introduction of the Extreme Flip Flop which provides an unmatched balance of comfort, protection and support. FlipRocks feature removable and replaceable GripToeNite gripping pads that provide traction for any outdoor environment. The most popular pads include: the Timberline gripping pad, which features all-around tread for hiking and daily use. The Water Trekker gripping pad incorporates stainless steel spikes to provide additional traction for river fishing, surfcasting or for any environment where superior traction is required. The Marine Sportsman pad is a felt-bottomed tread created for kayakers and boaters. Additional treads are available, and customers can view these options online at fliprocks.com.
"We're partnering with FlipRocks because they provide ideal footwear for any outdoor enthusiast spending time in parks, rivers or out on our nation's trails," said Clean Trails founder Steve Jewett. "We encourage all of our members to 'Adopt-a-Trail' by getting outdoors, logging some miles, and having fun while doing their small part to pick up trash and litter on their adopted trail. The FlipRocks Extreme Flip Flop provides comfort and support that enables hikers to hike longer and to enjoy the experience."
"Each of the 1.5 million Clean Trails members are active outdoor enthusiasts that embody the perfect customer for FlipRocks – so we're providing discounts and we're also making a donation to Clean Trails for every pair sold to their members," said FlipRocks founder Anthony Graffeo. "FlipRocks is an environmentally-conscious company and we're determined to do our part to help preserve trails, parks and rivers for generations to come."
Between now and National Clean Up Day in September, Clean Trails members are encouraged to visit http://www.fliprocks.com, where they can enter Promo Code CLEAN2018 to receive a discount on a pair of FlipRocks Extreme Flip Flops with Interchangeable Gripping Soles. This promo code will also trigger a FlipRocks donation to Clean Trails.
The FlipRocks' design has created a new class of outdoor footwear, with the most durable, flexible and technologically advanced flip flop on the market. Once FlipRocks' treads wear down, they can be replaced with new treads-of-choice that will last for several seasons – effectively making FlipRocks the last pair of flip flops that an outdoor enthusiast will ever need to buy. The FlipRocks elevated toe guard protects the most vulnerable part of the foot, and the removable and adjustable comfort strap provides additional support in any outdoor environment.
For additional information on FlipRocks, please visit: https://youtu.be/rkyze50ODHA, or http://www.fliprocks.com.