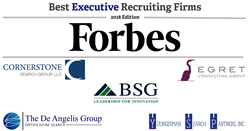 SCOTTSDALE, Ariz. (PRWEB) April 12, 2018
The International Retained Search Association (IRSA) announces five of its member firms have been placed on Forbes Best Executive Search Firms for 2018. Forbes rated the nation's executive search firms based on surveys among peers and clients across industries to find out which firms stand out among the rest. Forbes teamed up with market research company Statista to answer that question by producing, for the second year in a row, an annual ranking of America's best recruiting firms. The list is divided into two categories: one for the top 250 executive search firms specialized in filling positions with salaries of at least $100k and the other for those filling positions with salaries under $100k. Each of the five IRSA firms chosen were in the category of Best Executive Search Firms category.
To determine the best recruiting firms, Statista surveyed 30,000 recruiters and 4,500 job candidates and human resources managers who had worked with recruitment agencies over the last three years. Respondents were asked to nominate up to 10 recruiting firms in the executive and professional search categories. Firms could not nominate themselves; last year's findings were considered. More than 14,500 nominations were collected, and firms with the most recommendations ranked highest.
IRSA Member firms that were selected:
BSG Ventures – Education & Technology Boston, MA (#51) http://www.bostonsearchgroup.com
Cornerstone Search – Biotech & Pharma Parsippany, NJ (#86) http://cornerstonesg.com
The De Angelis Group – Orthopedic Industry Scottsdale, AZ (#92) http://www.orthospinesearch.com
Egret Consulting – Electrical Industry Mundelein, Illinois (#103) http://egretconsulting.com
Youngerman Search Partners – Consumer Goods Athens, GA (#242) https://www.youngermansearch.com
"It is gratifying to see such a strong representation from IRSA's member firms this year for the second year in a row. Several of our firms received much higher rankings this year compared to last year's results. As our membership has made significant strides, we have changed our annual meeting "The Retained Search Think Tank" to allow non-members to attend, as we believe in sharing Best Practices is the best way to strengthen the overall search industry." Said Drue De Angelis, Executive Director of IRSA.
See all 250 here:
https://www.forbes.com/best-executive-recruiting-firms/list/#tab:overall
About IRSA
The International Retained Search Association is a worldwide organization of executive search firm owners. IRSA provides a platform for retained search firm executives to discuss trends in the marketplace, share best practices, and cultivate valuable relationships. In the midst of a crowded and evolving market, IRSA allows search executives an opportunity to sharpen their skills and remain on the cutting edge of innovative business solutions.
IRSA's annual Retained Search Think Tank Conference takes place September 14-16 at The Ballantyne Hotel in Charlotte North Carolina. This is a valuable opportunity to spend the weekend conversing with some of the best minds in retained search. The weekend will be filled with invigorating discussion, innovative technology presentations, and round table discussions. The conference culminates on Sunday with the Knutson Scramble Golf Tournament in memoriam of Dave Knutson, one of the founders of IRSA.