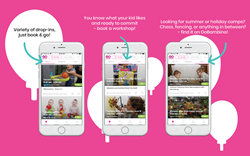 GoBambino gives parents the flexibility to book what they need, when they need it, and as often as they desire. We believe in providing our users with amazing local activities without charging a monthly fee
NEW YORK (PRWEB) April 16, 2018
GoBambino - the first subscription-free APP featuring a rapidly growing, comprehensive network of kid activities - has announced its official launch in New York City. The app can be downloaded free of charge and offers hundreds of unique classes and camps for children of all ages. Parents of infants and teenagers can find an activity their kids will love on the GoBambino APP .
GoBambino allows parents to easily find drop-ins, workshops/ semester classes, or camps and instantly book them via the mobile app. By using GoBambino, families can spend less time looking for and scheduling classes and more time enjoying them. The founders like to call it "The Seamless of kid activities", as the booking process on GoBambino is streamlined, based on geo-location, many personal preferences, and is a-la-carte.
Majority of GoBambino's activity providers are small businesses that are benefiting from the exposure they receive with no out-of-pocket costs. GoBambino's revenue-sharing model is much more affordable to vendors than most other advertising channels. This allows activity providers to feature their entire inventory with GoBambino, which helps all parties grow their business exponentially.
GoBambino was born when one of its founders, Dana Serikov, attempted to find an app to book classes for her then 2 year old daughter. She was looking for an app that would offer activities a-la-carte in New York but was unable to find a suitable solution.
"I like to explain it this way - GoBambino is a win-win-win for all: We allow our partners to save money on advertising as we promote their classes for them without charging a premium, and parents enjoy the flexibility and ease of our App. Together, we give back to the community by donating a portion of the fees to a local non-profit organization," said Serikov.
The company has launched #GoBambinoGives initiative and contributes part of collected fees to a local charity helping children and families in need. Currently, GoBambino is working with NYSPCC to help fight child abuse and is the official sponsor of the NYSPCC gala.
Dana Serikov's business partner and GoBambino co-founder Sofya Vasilyeva is a serial entrepreneur who has worked extensively with startups both in the Silicon Valley and in New York.
"GoBambino gives parents the flexibility to book what they need, when they need it, and as often as they desire. We believe in providing our users with amazing local activities without charging a monthly fee," said Vasilyeva.
GoBambino is planning to launch a web-based service for booking activities later this month to increase its presence in the market. An android-based app is also being developed, which will be released in the summer of 2018. The company is currently planning a number of high-profile events in New York to boost presence and awareness, as well as negotiating partnerships with family organizations and commercial enterprises.
About GoBambino
GoBambino allows parents to discover and book a variety of kid activities on an easy to use app, without commitment or subscription fees. Parents and caregivers can find and book art classes, acting classes, dance, sports, open-play, music lessons, theater, language classes, and much more. The company was founded by Dana Serikov and Sofya Vasilyeva in New York with a mission to make planning and booking activities easy, affordable, and fun. GoBambino – Discover, Book. Play.
For more info or to book an activity, please download the GoBambino APP