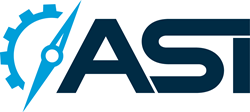 Winning Gold in the Edison Awards further acknowledges ASI's hard work and commitment to developing safe and efficient autonomous vehicle technology. - Bret Turpin, project manager for ASI Agriculture
NEW YORK (PRWEB) April 12, 2018
The Edison Awards announced today that Autonomous Solutions, Inc. (ASI) was voted a Gold winner in the 2018 Edison Awards for its work in the development of the Autonomous Tractor Concept with CNH Industrial and its brands Case IH and New Holland Agriculture.
The Edison Awards, celebrating 31 years of honoring the best in innovation and excellence in the development of new products and services, made the announcement at the April 11th event at The Capitale in New York City. ASI's Bret Turpin, joined hundreds of other senior executives from some of the world's most recognized companies to acknowledge ASI's hard work and commitment to safe, efficient autonomous vehicle technology for commercial applications.
ASI is the autonomous technology provider for CNH Industrial, parent company of Case IH and New Holland Agriculture and jointly announced the Autonomous Tractor Concept with those companies in late 2016.
The Autonomous Tractor Concept is a fully functioning large scale autonomous tractor. It is capable of autonomous seeding, planting, and tillage for broad acre and row crop farming. The vehicles are also capable of obstacle detection which will enhance safety in the agriculture industry. Recent developments have seen the technology deployed in pilot programs at two of the nation's largest growers in California.
"Winning Gold in the Edison Awards further acknowledges ASI's hard work and commitment to developing safe and efficient autonomous vehicle technology," says Bret Turpin, project manager for ASI Agriculture. "To be honored with this prestigious award alongside companies like Lockheed Martin and General Electric is a tribute to our developers, leadership, and teams at ASI."
Being recognized with an Edison Award has become one of the highest accolades a company can receive in the name of innovation and business. The awards are named after Thomas Alva Edison (1847-1931) whose inventions, new product development methods and innovative achievements literally changed the world.
"Our judges recognized ASI as a true innovator out of the many products in its category," said Frank Bonafilia, executive director of the Edison Awards.
The ballot of nominees for the Edison Awards™ was judged by a panel of more than 3,000 leading business executives including past award winners, academics and leaders in the fields of product development, design, engineering, science and medical.
All nominations are reviewed by the Edison Awards Steering Committee with the final ballot being sent to an independent judging panel. Final winners will be announced April 11, 2018. The judging panel was comprised of more than 3,000 professionals from the fields of product development, design, engineering, science, marketing and education, including professional organizations representing a wide variety of industries and disciplines.
ASI previously won an Edison Award in 2013 for its patented Guideline® Robotic Convoy System. Guideline is a ground vehicle convoy solution that tethers unmanned follower vehicles to a manned or unmanned lead vehicle. Follower vehicles execute the exact path the leader takes.
For more information on the Edison Awards, please visit their website.
###
About Autonomous Solutions, Inc.
Autonomous Solutions, Inc. (ASI) designs and manufactures unmanned vehicle systems, software, and components that are OEM agnostic. ASI's robotic kits and command and control software can be leveraged in a variety of industries including agriculture, automotive, mining, military, security, and industrial applications. ASI's vehicle automation kits are OEM independent and have been used for many different applications. Clients have experienced enhanced safety, increased efficiency, and improved accuracy.
For over 18 years, ASI has been a leader in vehicle automation. ASI has a strong software team which makes up over half of its engineering work force. ASI's Mobius software allows for command and control of a fleet of vehicles in addition to ease of use, industry specific task planning, and vehicle diagnostics. ASI has extensive experience automating vehicles of all shapes and sizes with an emphasis on systems integration, obstacle detection and avoidance, tele-operation, and fully autonomous controls. For more information about ASI visit http://www.asirobots.com.
Media Contact:
Matt Nielsen
Corporate Communications Manager
Autonomous Solutions, Inc.
435.227.7420
matt.nielsen(at)asirobots.com