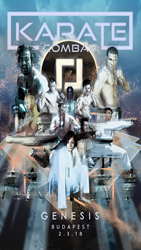 I wish this was around when I was coming up in the Karate world!--Chuck Liddell
NEW YORK (PRWEB) April 12, 2018
Karate Combat announced today that Mixed Martial Arts stars Chuck Liddell and Bas Rutten have signed on as ambassadors to the new professional martial arts league, Karate Combat. Liddell and Rutten will advise the executive team lead by CEO Michael DePietro, promote the league among athletes and fans, advise on rules and branding, and add commentary to select events.
Karate Combat offers the only mainstream, full contact version of the sport, moving the 700-year old art into the 21st century, respectfully but aggressively, with modern, mobile viewing habits and entertainment value in mind. Its home is the World's Gateway to Karate, karate.com.
Chuck Liddell, the UFC Light Heavyweight Champion and Hall of Fame inductee, is considered one of the greatest MMA fighters of all time and is credited with helping bring the sport into the mainstream. He got his start in karate as a teen and eventually became a fifth degree black belt and won titles around the world. He was the first MMA fighter to appear on the cover of ESPN magazine.
"I love Karate, and I think it is incredible that we fighters now have Karate Combat to showcase our best full contact skills," said Chuck Liddell. "I wish this was around when I was coming up in the Karate world!"
Bas Rutten is a Dutch actor and retired MMA fighter, kickboxer and professional wrestler. He was UFC Heavyweight Champion known for his 11 year-long winning streak. He is a fifth degree Kyokushin Karate Black Belt. Since retiring, he has worked as a commentator for combat sports and hosted Inside MMA. Rutten is the first European to be inducted into the UFC Hall of Fame. He has also appeared in many TV shows, movies and video games, hosts his own podcast Rutten And Ranallo and has a recurring role on CBS's Kevin Can Wait.
"I am super stoked to be part of Karate Combat," says Bas Rutten. "The interest and enthusiasm in just the first week is huge--with fighters from all over the world lining up to join. The production values and the care taken to develop rules that both honor and advance the sport are incredible."
Karate Combat launched in April with praise from Sports Illustrated and BBC Worldwide, and is being recognized as a bellwether for Karate's debut at the 2020 Olympics in Tokyo, as well as changing sports viewing habits among millenials and as an antidote to what some see as a loss of core martial arts values in many combat sports leagues. Combat Karate has signed over 100 of the top Karatekas from 30 countries and planned fights in Dubai, Athens, and Hong Kong this Spring.
The next event, Karate Combat: Inception, will be April 26 in Miami Beach. Rutten will announce the fight.
Phoenix Carnevale has signed as a commentator for Karate Combat events. One of the only female commentators in MMA, Carnevale has extensive knowledge of the sport and also has a background in karate. She works as an actress and trainer.
KARATE.COM is the main gateway for distribution through Karate Combat's wholly owned and operated platforms including its mobile apps. Events and content will also be available via multiple digital, TV and OTT outlets around the globe including the global FITE app, YouTube, Twitch, The Fight Network, Facebook, Rumble, Titan Channel, and Dailymotion.
Watch now at karate.com
About Karate Combat
Karate Combat is a premier Karate brand which operates a professional full contact karate league, sports equipment business, and worldwide Dojo network. The Company seeks to evolve the traditional sport of Karate via KARATE.com, the World's Gateway to Karate, and branded mobile apps. The firm is headquartered in New York City with satellite offices in Calabasas, CA and Budapest. For more information visit karate.com