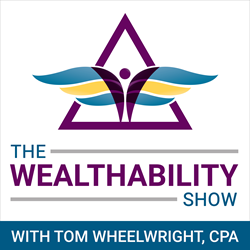 I started The WealthAbility Show so more people can truly own their financial future, and achieve their financial dreams. ~ Tom Wheelwright, CPA, CEO of WealthAbility, and Tax-Free Wealth Author
TEMPE, Ariz. (PRWEB) April 13, 2018
CPA, CEO and Tax-Free Wealth Author Tom Wheelwright announces the launch of, "The WealthAbility Show with Tom Wheelwright, CPA" that will air the first episode on Tax Day (April 17, 2018). This new podcast will provide wealth-building tips for entrepreneurs and investors through "Way More Money, Way Less Taxes."
In "The WealthAbility Show with Tom Wheelwright CPA", the host will guide listeners into a revolutionary approach to thinking about taxes and wealth-building. Wheelwright is an unapologetic advocate of the radical idea that, "You are fully capable of controlling your own financial future. And that you--not Wall Street--have an innate right to control your money, build your wealth, and achieve your financial dream."
In upcoming episodes, Wheelwright and his guests will cover the specific strategies and tactics designed to build wealth and legally reduce your taxes by 10-40%.
Initial topics for this financial education podcast will include:

Rethinking the tax law as a series of incentives that can benefit savvy entrepreneurs and investors.
Understanding the 5 ways the government incentivizes via taxes.
Retaking control of your money and financial future from Wall Street.
How to become a professional investor by making ONE decision.
Envisioning your financial dream and the concrete numbers it will take to get there.
And many, many more...
In addition to shows featuring Host Tom Wheelwright about the principles of tax-saving and wealth-building, podcast guests will include some of the world's leading financial minds. Wheelwright's "Tax-Free Wealth" book, clients and keynote speeches have changed the lives of hundreds of thousands of entrepreneurs and investors around the world.
Upcoming featured guests will include Rich Dad Advisors to Robert Kiyosaki (Best-selling Author of Rich Dad Poor Dad - the #1 personal finance book of all time). As the Rich Dad Advisor for Tax and Wealth Strategies, Wheelwright will interview fellow advisors, including: Real Estate Advisor (Ken McElroy), Legal Advisor (Garrett Sutton Esq.), Sales and Teambuilding Expert (Blair Singer), Paper Assets Advisor (Andy Tanner), Raising Capital Advisor (Darren Weeks), and Social Entrepreneurs (Josh and Lisa Lannon). And stay tuned because Wheelwright is expected to interview Robert Kiyosaki himself (Tom's close friend and client), his brilliant wife and partner Kim Kiyosaki ("Rich Woman"), as well as other amazing guests who will change the way you think about money and taxes.
Wheelwright explains what inspired this new show; "Almost daily, I hear from another business owner or investor who has read my book, 'Tax-Free Wealth' and put it to work in their life and business. They tell me about the paradigm shift that occurred when they realized the explosive wealth-building power of legally and permanently reducing their taxes. And they tell me about how they achieved their financial dreams faster than they ever thought possible. That's why I started The WealthAbility Show. So more people could truly own their financial future, and achieve their financial dreams."
The WealthAbility Show podcast will be published twice per month, with the first episode airing April 17, 2018.
Listeners may also subscribe and listen to "The WealthAbility Show with Tom Wheelwright CPA" on WealthAbilty.com/Show and iTunes.
About Tom Wheelwright
Tom Wheelwright is a CPA, CEO of WealthAbility (Tempe, Arizona), and Best-Selling Author of Tax-Free Wealth. Wheelwright is a leading wealth and tax expert, global speaker, and Entrepreneur Magazine Contributor. Tom is best known for making taxes fun, easy and understandable, and specializes in helping entrepreneurs and investors build wealth through practical and strategic ways that permanently reduce taxes. As a Rich Dad Advisor to Robert Kiyosaki (Rich Dad Poor Dad), Tom frequently speaks at conferences worldwide to entrepreneurs on these topics. Wheelwright is also a Contributor to two new Rich Dad books: More Important Than Money: An Entrepreneur's Team (July 2017) and Why The Rich Are Getting Richer (July 2017). His work has been featured in The Wall Street Journal, Washington Post, Forbes, Accounting Today, Investor's Business Daily, FOX & Friends, ABC News Radio, NPR, Marketplace and many more media. http://wealthability.com
Media Contact
Liz Kelly, 310-987-7207