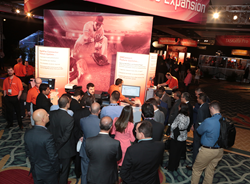 "Innovate 2018 is the year's most important event for our channel partners, and therefore it's the year's most important event for us" - Ed Bialecki, Senior VP Sales
FAIRFIELD, N.J. (PRWEB) April 13, 2018
KYOCERA Document Solutions America, Inc., one of the world's leading document solutions companies, recently hosted Innovate 2018, its annual business and technology conference held this year at the Omni at ChampionsGate in Orlando, Florida. The event drew together more than 1,000 dealer partners, Kyocera executives, industry press, and guests from Canada, Brazil, Chile, Mexico, the Caribbean, and Japan.
Teamwork: It's Not Just for Sports
The conference theme, "It Takes a Team," spoke to Kyocera's unparalleled commitment as the industry's most dealer-centric document imaging and document management organization. "We focus on creating a culture of teamwork that supports every member of the Kyocera family," explained Yukio Ikeda, President and CEO of KYOCERA Document Solutions America.
The theme was underscored by host Hannah Storm, who has covered some of the very best teams across the world of sports during her remarkable career at CNN, NBC, and ESPN/ABC.
Mr. Ikeda's remarks echo the philosophy of Kyocera founder Dr. Kazuo Inamori, whose company – currently #522 in Forbes Global 2000 – was built on the principle of serving the greater good.
TDS 2.0: Beyond the Document
Much of Innovate 2018 focused on digitized data and the many ways Kyocera is adapting to meet the evolving needs of today's customer. This year the company has taken its Total Document Solutions approach to the next level, with the launch of TDS 2.0.
"TDS 2.0 is about workflow optimization, enterprise content management, and business process improvement," said Danielle Wolowitz, VP Corporate Marketing. "These solutions aren't just for large-scale businesses anymore – with a TDS Assessment, we can find ways to improve any company's workflow."
Kyocera fully supports its dealers' TDS 2.0 efforts, with comprehensive training, tools, and resources. Wolowitz pointed to Kyocera's recent acquisition of DataBank, one of the world's leading enterprise content management providers. "Our dealers now have support from a world-class partner in ECM and BPI solutions."
New MFPs; Renewed Focus on Business Applications
Kyocera introduced a range of new MFPs, filling out the higher end of its line with devices whose speeds enter production print levels. The company announced the rollout of 96ppm, 111ppm, and 136ppm devices; and channel partners had the opportunity to test out the new 90ppm TASKalfa 9002i.
Software solutions – commonly called Business Applications– play a major role in the company's TDS 2.0 approach. At the Technology Fair, attendees were treated to demonstrations of several versatile business applications including KYOCERA Net Manager, Kyocera Fleet Services (KFS), DMConnect / DMConnect Pro, Accusender ShareBase and more.
A New Inkjet Market Segment
KYOCERA Document Solutions America, Inc., previewed the TASKalfa Pro 15000c in an exclusive exhibit at Innovate 2018. The TASKalfa Pro 15000c will be commercially available in early calendar year 2019. Detailed product specifications, and device MSRP will be made available at that time.
Accolades
The conference was the perfect opportunity to honor the year's successes, and there were many.
Kyocera Leadership called out the year's best performers among the dealer community, bringing several Kyocera Premier and Copystar Elite dealers to the stage for a well-deserved recognition. They also shined a spotlight on their Technical Service Award Winners, who hailed from the US, Canada, and throughout Latin America.
Finally, Kyocera celebrated its own success; representatives from Buyers Lab BLI / Keypoint Intelligence were on-hand to recognize the remarkable seven Picks Awards earned by Kyocera devices last year.
Kyocera's "Super Bowl"
"Innovate 2018 is the year's most important event for our channel partners, and therefore it's the year's most important event for us," said Ed Bialecki, Senior VP Sales. "Every year we have an opportunity to reaffirm our place as the industry's most dealer-centric organization. And once again, I think we've done just that."
ABOUT KYOCERA DOCUMENT SOLUTIONS AMERICA KYOCERA Document Solutions America, Inc. (https://usa.kyoceradocumentsolutions.com), headquartered in Fairfield, N.J., is a leading provider of computer-connectable document imaging and document management systems, including network-ready digital MFPs/printers, laser printers, color MFPs/printers, digital laser facsimiles, and multifunctional and wide format imaging solutions. KYOCERA Document Solutions America is a group company of KYOCERA Document Solutions Inc., a core company of the KYOCERA Corporation, the world's leading developer and manufacturer of advanced ceramics and associated products, including telecommunications equipment, semiconductor packages and electronic components.
KYOCERA Document Solutions America, the first document solutions company with third-party certified sales data, has received numerous honors for its products' high performance, reliability, and cost efficiency. KYOCERA Corporation's consolidated net revenues were approximately $13 billion for the fiscal year ending on March 31, 2017.