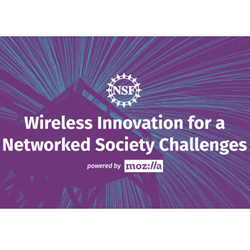 The technology advantages again prove MetroLinq to be a perfect solution and the future of fixed wireless connectivity
(PRWEB) April 12, 2018
AbqGig is pleased to announce that it has participated in the WINS (Wireless Innovation for a Networked Society), which looks for new and innovative technologies to connect the unconnected in the U.S., where more than 10% of the population is lacking reliable connectivity.
BarelasGig project is using mmwave (millimeter wave) MetroLinq products from IgniteNet to extend existing fiber infrastructure and bring multi-gigabit connectivity to the city of Albuquerque. 60 GHz products from IgniteNet cover a variety of applications including multi-gigabit backhaul, last-mile access, Wi-Fi connectivity, video surveillance networks, smart city applications and many more. The use of 60 GHz spectrum enables the rapid construction of fiber-like networks at a fraction of cost while at the same time preserving traditional unlicensed bands (2.4 and 5 GHz) for Wi-Fi access and Internet of things or smart city applications increasingly requiring more spectrum and capacity.
MetroLinq products from IgniteNet offer capacity multiple Gigabits of connectivity and a variety of different models to provide connectivity at up to 1.5 km in point to point and point to multipoint applications. As a pioneer in low-cost, high performance 60 GHz, IgniteNet delivers cutting-edge products featuring the latest in technology as well as carrier grade software features and professional mounting brackets that are extremely important when aligning ultra-narrow beam antennas. All MetroLinq products also include a 5 GHz radio which operates as a backup/failover to allow for operations in extended distances that could otherwise be affected by weather.
"It is great to see the benefits of IgniteNet's 60 GHz MetroLinq platform recognized in a WINS competition powered by Mozilla, which aims to increase the coverage and quality of connectivity across the U.S. AbqGig has been partnering with us from the very beginning and helped to prove that MetroLinq products are a perfect solution that complements fiber connectivity and allows extending it very quickly and at a much lower cost. The technology advantages again prove MetroLinq to be a perfect solution and the future of fixed wireless connectivity," says Chad Dewey, VP of Product for IgniteNet.
"IgniteNet has been a valued partner in helping us build our first fixed wireless network in our underserved community of Albuquerque. The BarelasGig project will help us shape the future of wireless technology and prioritize the needs for all New Mexicans to have choices in affordable, high-speed internet connections," says Ricardo Aguilar, Chairman for AbqGig.
About Ignitenet
Headquartered in Irvine, CA, IgniteNet is a wholly owned subsidiary of SMC Networks, Inc. IgniteNet has a proven track record of producing powerful, reliable, easy to deploy, and innovative cloud managed wireless solutions and the industry's lowest cost 60 GHz wireless technology through channel partners worldwide, focusing on Enterprises and Service Providers. For more information, please visit http://www.ignitenet.com.
About AbqGig
Headquartered in Albuquerque, NM, AbqGig is a community broadband working group consisting of the technology industry, academic institutions, research labs, local governments, businesses, start-ups and residents working together to improve the deployment of high-speed broadband infrastructure and service. For more information, please email info(at)abqgig.net