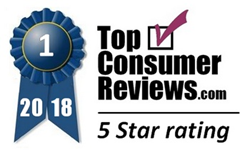 If you're looking for a total-body workout without the impact on your joints, Yowza should be your first stop.
OVERLAND PARK, Kan. (PRWEB) April 16, 2018
TopConsumerReviews.com recently awarded their top ranking to Yowza Fitness, a leader in the Elliptical Machine industry.
For those looking for the cardio benefits of a treadmill without the constant pounding on joints, along with the added possibility of strength training, Elliptical Machines are a popular choice. Compared with stationary cycling or treadmills, Elliptical Machines offer the ability to work multiple muscle groups at once, such as the chest, core, quads, back, buttocks, hamstrings, and triceps. All these muscle groups are exercised while also raising the heart rate through effective cardio.
Shopping online makes it easy to find the right Elliptical Machine for any fitness center, whether at home or a business. Some key considerations when searching for the best fit are the resistance mechanism (flywheel or magnetic), the stride width, and the overall package of features that can include Bluetooth connectivity and TV monitors.
"Yowza Fitness continues to offer the industry's best Elliptical Machines with respect to reliability, durability, and top-notch customer service," observed Brian Dolezal, of TopConsumerReviews.com, LLC. "The machines they sell have today's most popular features in the cardio market, such as high-quality speakers and internet connectivity, but it's their design that puts Yowza at the top of our list. Their ellipticals have a patented design that minimizes wear and tear on a person's joints, making it a piece of cardio equipment that can truly be used and enjoyed for many years. Yowza's Elliptical Machines have a lifetime guarantee on the braking system and the frame, and with a 30-day return policy you can try their equipment risk-free. If you're looking for a total-body workout without the impact on your joints, Yowza should be your first stop. It is our pleasure to name them our first choice in Elliptical Machines for 2018."
To find out more about Yowza Fitness and other elliptical machines, including reviews and comparison rankings, please visit the Elliptical Machines category of TopConsumerReviews.com at https://www.topconsumerreviews.com/elliptical-machines.
About Yowza Fitness
Yowza Fitness seeks to stay ahead of the home fitness industry through cutting-edge design and innovation, whose manufacturer has a 30-year track record of high-quality products. All of Yowza Fitness' products are designed in the USA, and their direct-sales approach allows them to keep value high and prices low.
About TopConsumerReviews.com
TopConsumerReviews.com, LLC is a leading provider of independent reviews and rankings of thousands of consumer products and services. From Elliptical Machines to Exercise Bikes and Home Gyms, TopConsumerReviews.com delivers in-depth product evaluations in order to make purchasing decisions easier.