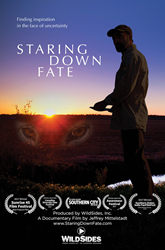 CHAPEL HILL, N.C. (PRWEB) April 13, 2018
Documentary filmmaker and UNC graduate Jeff Mittelstadt will present his award-winning documentary "Staring Down Fate" at the University of North Carolina Kenan-Flagler Business School on Thursday, April 19.
"Staring Down Fate" tells the story of Chris Lucash, a federal wildlife biologist, as he faces his diagnosis with Amyotrophic Lateral Sclerosis (ALS), and chronicles the reintroduction and decline of the red wolf, which is "staring down fate" alongside Lucash. It also highlights research that finds correlations between environmental issues and ALS, as well as other neurodegenerative diseases like Parkinson's and Alzheimer's.
A panel discussion with Dr. Richard Bedlack, director of the Duke ALS Clinic and Lucash's doctor, and Mark MacAllister, vice board chair of the Red Wolf Coalition, will follow the film screening. Tracy Triggs-Matthews, associate director of the Center for Sustainable Enterprise, will moderate the panel.
The Center for Sustainable Enterprise, Net Impact and the Center for Entrepreneurial Studies at UNC Kenan-Flagler are hosting the free event from 6-9 p.m. as part of Green Week.
Mittelstadt, the film's director and producer, received his MBA from UNC Kenan-Flagler and his MA from the School of Journalism and Media. He founded WildSides, a nonprofit organization that creates educational and documentary multimedia, in 2011.
"Sharing this film in Chapel Hill is an important and personal screening for me as a Carolina graduate and because I met Chris while I was here," says Mittelstadt. "'Staring Down Fate' is a North Carolina story, edited and produced right here that – through Chris – continues to inspire people everywhere to find comfort and passion in living with purpose and continually striving to make this world a better place."
#
About the University of North Carolina Kenan-Flagler Business School
Consistently ranked one of the world's best business schools, UNC Kenan-Flagler is known for its collaborative culture that stems from its core values: excellence, leadership, integrity, community and teamwork. Professors excel at both teaching and research, and demonstrate unparalleled dedication to students. Graduates are effective, principled leaders who have the technical and managerial skills to deliver results in the global business environment. UNC Kenan-Flagler offers a rich portfolio of programs and extraordinary, real-life learning experiences: Undergraduate Business, full-time MBA, Executive MBA Programs (Evening, Weekend and global OneMBA®), online MBA@UNC, UNC-Tsinghua Dual-Degree EMBA, Master of Accounting, PhD, Executive Development, and UNC Business Essentials programs. It is home to the Frank Hawkins Kenan Institute of Private Enterprise.