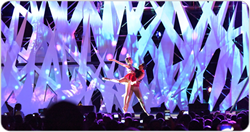 We look on Christie as our technological partner. Without their projectors and servers we would not have achieved the standards of quality we were striving for.
Mexico City (PRWEB) April 17, 2018
Christie®, a leader in creating and delivering the world's best visual and audio experiences, is pleased to announce that, for the second year running, it has been the official sponsor of GDLUZ, the Festival of Light of Guadalajara, which lit up the city's most iconic buildings over four days to celebrate the 476th anniversary of the founding of the city.
Christie 3DLP® projectors, including the Christie Boxer, and Christie Pandoras Box servers, played a major role in some of the 40 attractions at the event, among which were projection mapping projects, multimedia shows, interactive installations, along with live music, artistic installations and performances. More than half-a-million people enjoyed the event.
"Christie's role this year at GDLUZ was key," said Carlos Márquez, director of projection at Alteacorp, the company behind the event who orchestrated the show together with the support of Guadalajara City Council and private initiatives. He added, "We look on Christie as our technological partner. Without their projectors and servers we would not have achieved the standards of quality we were striving for."
One of the event's interactive projections was Laser Mapping. Using a laser pointer, the public could draw shapes and images that were then projected in real time using a Christie HD14K-M projector on one of the walls of a building in Plaza de Tapatía, one of the city's most popular squares.
Another project featuring Christie technology was the interactive mapping in the esplanade at Hospicio Cabañas, using a Christie Boxer 4K30 projector. Using a proprietary application designed by Altea Corp which included servers made specifically to process moving images and sensors, as well as Christie Pandoras Box media managers and players, the public were able to create their own video projection mapping, painting the façade of this World Heritage site in real-time.
The city's Teatro Degollado was also used as a projection screen for a spectacular video mapping using a Christie Boxer 4K30 synchronized by Pandoras Box.
Alteacorp's Márquez, was particularly pleased with the Christie Boxer 4K30 functions. "For me, one of the most outstanding features of this equipment is the http control interface in real time. Other major assets are the light weight and compact size, which make it so much easier to mount and use, as well as the excellent resolution and depth of color."
He went on to add, "I would heartily recommend combining Christie projectors and servers for events of this scale. We were absolutely delighted to have Christie on board again as a sponsor and technological partner for our festival."
Ernesto Armus, Director of Christie Mexico, noted, "We are proud of the fact that our projectors and servers have played such a key part once again in putting the light into Mexico's biggest light festival. The Alteacorp team were able to make the most of our technology to produce a hugely impressive and spectacular show."
About Christie
Christie Digital Systems USA, Inc. is a global visual and audio technologies company and a wholly-owned subsidiary of Ushio Inc., Japan (JP:6925). Consistently setting the standards by being the first to market some of the world's most advanced projectors, complete system displays, and cinema audio solutions; Christie is recognized as one of the most innovative visual technology companies in the world. From retail displays to Hollywood, mission critical command centers to classrooms and training simulators, Christie display solutions and projectors capture the attention of audiences around the world with dynamic and stunning images, accompanied by awe-inspiring sound. Visit http://www.christiedigital.com.