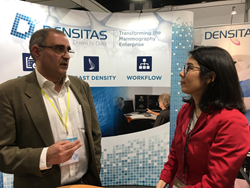 Our software radically simplifies compliance with breast density reporting laws and guidelines.
LAS VEGAS, Nevada (PRWEB) April 13, 2018
Densitas Inc., an innovator in machine learning analytics for breast health, has received FDA clearance for DENSITAS|density, its automated breast density software that analyzes the same processed digital mammograms that radiologists view and are routinely stored in PACS.
The zero-click software provides radiologists with breast density assessments at point-of-care that are as accurate as the visual assessments made by experienced MQSA-qualified radiologists. The automated reports enhance confidence in follow up care decisions and facilitate uniformity in density measurements across clinics and major hospital networks. DENSITAS|density integrates seamlessly with PACS and enhances workflow.
"Receiving FDA clearance marks a significant milestone in our company's growth as we expand our global reach into the U.S. market with our flagship product," said Mohamed Abdolell, CEO of Densitas. "Our market entry is timely given the recent recommendations by the American College of Radiology that breast MRI be provided to women with family history of breast cancer and dense breasts and breast ultrasound to women with dense breasts alone due to the associated risk of cancer."
Densitas has the distinct advantage of generating breast density assessments from standard processed images and their priors that are stored in PACS. This provides a practical solution for integrating breast density into risk-based models in population-based screening.
"We are delighted to be entering the largest medical device market in the world, especially as 35 States have now passed mandatory breast density notification laws covering over 80% of screen eligible women," said Abdolell. "Our software radically simplifies compliance with breast density reporting laws and guidelines."
DENSITAS|density is cleared for clinical use in the U.S., Europe, Canada and Australia, and is the first of several follow-on products. The software is being showcased at the 2018 SBI/ACR Breast Imaging Symposium April 12 to 15, booth 327 at The Cosmopolitan of Las Vegas.
ABOUT DENSITAS
Densitas develops advanced imaging analytics technologies powered by machine learning that deliver actionable insights at point-of-care for personalized breast health. Our products address the key challenges facing breast imaging today, including mammography quality, workflow efficiencies, compliance with national guidelines and standards, and delivery of appropriate care at sustainable costs. For more information, visit us at densitas.health.
CONTACT
Alex Morris
alex(at)densitas.health
Mobile: +1-647- 470-4363
Web: densitas.health
Twitter: @Densitas