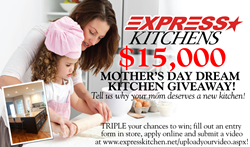 TRIPLE your chances to win! Apply in-store, online and submit a video telling us why your Mom deserves a new kitchen!
HARTFORD, Conn. (PRWEB) April 12, 2018
Has your Mom been dreaming of a new kitchen?
Beginning today and continuing through 12:59 pm on Saturday, May 12, 2018, local families can dream about giving their Mom the ultimate Mother's Day gift - a $15,000 kitchen makeover, courtesy of local retailer Express Kitchens!
On Saturday, May 12th, Express Kitchens will give away a brand-new kitchen, complete with all-wood cabinets, crown molding, granite or quartz countertops, sink, faucet and stainless steel appliances. The prize package is valued at $15,000!
It all starts with a visit to any one of Express Kitchens' 12 retail showrooms to enter the contest. Anyone can enter by filling out an entry form telling Express Kitchens why your mom deserves a new kitchen at any of their showrooms, and you can increase your chances of winning by entering online at expresskitchen.net/uploadyourvideo.aspx; and for an additional chance to win, submit a video about why your Mother deserves a new kitchen for Mother's Day!
A live announcement will be held at 1pm on Saturday May 12th at all Express Kitchens locations. The lucky winner must sign in at any one of Express Kitchens' 12 retail stores that day between 9 AM and 12:59 PM. The lucky winner will be chosen and announced at 1pm. Even if your mom doesn't take home the grand prize, additional prizes will be given out every 1/2 hour, and every in-store entry gets a coupon for $250 off their new kitchen (Limit 1 coupon per kitchen) - everybody's a winner!
As the fastest-growing kitchen retailer in Connecticut and Massachusetts, Express Kitchens offers one-stop shopping for their kitchen remodel. Stores are located in Bridgeport, Brookfield, Hamden, Hartford, Newington, New London, Norwalk, Orange, Stamford, Torrington, and Waterbury CT and West Springfield, MA. With 12 locations set to expand to 16 in the first half of 2018, Express Kitchens is truly growing, growing, growing!
For more information on Express Kitchens and its offerings visit http://www.expresskitchen.net or call (860) 247-1000.