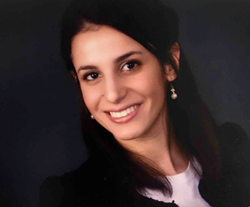 This year, volunteer Talish Aghababayan will receive the Jane Falk Award for distinguished volunteer service.
BROOKLINE, Mass. (PRWEB) April 12, 2018
The Massachusetts Association for the Blind and Visually Impaired (MABVI) will honor its many volunteers at its annual "Champions of Volunteer Service" brunch on April 15th, 2018 at The Westin Copley Place. In addition to honoring its volunteer force of 400, MABVI will present several special awards to recognize exceptional volunteers in two categories.
Jane Falk Award
Each year, MABVI presents the Jane Falk Award for Distinguished Volunteer Service to one volunteer who has creatively and generously participated in fostering the ideals, services, and mission of the organization. Jane Falk was a volunteer and former President of the Board of Directors for MAB Community Services (MABVI's parent organization). She believed strongly that individuals should seek the opportunity to give back to their communities, and that those volunteers should be recognized for their efforts. The award was established in 1983 in Jane's memory. This year, volunteer Talish Aghababayan will receive the Jane Falk Award for distinguished volunteer service.
About Talish Aghababayan
Aghababayan has been an active volunteer with MABVI for the last two-and-a-half years, helping a local family. She is a recent graduate of the New England College of Optometry (NECO), and is currently an optometrist practicing at Dr. Magalhaes & Associates in their Attleboro & Dartmouth locations. She is passionate about low vision, and her clinical experiences include working with Dr. Richard Jamara at the New England Eye Center, and at the Carroll Center for the Blind. Currently, she is advocating for more optometrists to incorporate primary low vision care into their practices, and to educate patients about local resources and groups, including MABVI.
"Talish has been an unwavering supporter and participant in the MABVI Volunteer Program," said Kyle Robidoux, MABVI Director of Volunteer & Support Group Services. "What makes her unique is that she is volunteering with an entire family who is blind—both parents and two children. Her compassion is off the charts. She is also a NECO graduate, and just began work as a full-time optometrist."
Volunteer Community Partner Award
The Massachusetts College of Pharmacy and Health Sciences (MCPHS) will receive the Volunteer Community Partner Award. This award is given to an organization or business which has shown a dedicated commitment to growing and strengthening MABVI's One-to-One Volunteer Program. Over the past four years, MCPHS has been an active partner in recruiting students to become volunteers. Additionally, MCPHS regularly invites MABVI to participate in their Student Volunteer Fairs, and earlier this year a team of optometrists attended MABVI volunteer training to learn more about blindness-related issues.
"MCPHS University is honored to receive the Volunteer Community Partner Award from MABVI," said Michael Ratty, Director of Communications at MCPHS. "Recruiting volunteers for the association's internship fair in September, the university had an important opportunity to demonstrate our ongoing commitment to student engagement and volunteerism in the community. The association has played an important role in the field for more than a century, and we look forward to partnering on more outreach initiatives."
About MCPHS
Founded in 1823 as the second-oldest pharmacy college in the U.S. and now a state-of-the-art university for health sciences, MCPHS University (formerly known as Massachusetts College of Pharmacy and Health Sciences) is focused on shaping healthcare and bettering the field one generation at a time. The university's flagship campus is located in the heart of Boston's Longwood Medical and Academic Area, a world-class center for healthcare innovation. With additional campuses in Worcester and Manchester, NH, MCPHS enrolls more than 7,000 students in more than 100 graduate, professional, and undergraduate health sciences programs. In addition to physical campuses, MCPHS offers online degree programs designed to empower healthcare professionals.
The Gibney Family Foundation
MABVI will also recognize The Gibney Family Foundation, a long-time supporter of the organization. The Gibney Family Foundation (TGFF) puts the grantee at the center of its philanthropy partnerships. TGFF has an individualized approach, working one-on-one with grantees to build sustainable solutions through non-profit programs and the people they serve. They tap the knowledge and perspective of grantees and community members to build trust, and help shape more effective solutions.
"These special people and organizations, along with all of our dedicated volunteers, provide people who are visually impaired a way to help themselves and become more independent," said Barbara Salisbury, CEO of Massachusetts Association for the Blind and Visually Impaired. "We can all take an example from their selfless work to improve the lives of so many."
About MABVI
Massachusetts Association for the Blind and Visually Impaired (MABVI) is the oldest social service organization in the country that serves adults and elders who are blind or visually impaired. They provide vision rehabilitation services and partner with community and medical groups to create high-impact, cost-effective services.