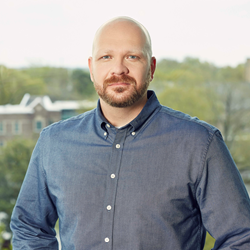 "Apiture is committed to creating innovative digital structures and we are building an exciting pipeline of technology that will directly benefit our clients."
WILMINGTON, N.C. (PRWEB) April 12, 2018
Apiture, an open API banking company focused on creating cutting-edge technology for financial institutions, has announced that Xeth Waxman has been named Executive Vice President of Engineering.
Waxman joins Apiture as a seasoned engineering leader, with more than 10 years' experience in the financial services and software industries. His background in the convergence of product development and product operations (DevOps), continuous integration and continuous delivery (CI/CD) and automation will further advance Apiture's success.
"Xeth has the proven skill set to create elite, industry-recognized software development teams and we are excited to have him as part of the Apiture family," said Chris Cox, president of Apiture. "We know that banks and credit unions need new digital solutions to give their customers secure and cohesive banking experiences and having such an experienced engineering leader will set Apiture apart as we aim to change the future of digital banking."
Waxman is a graduate of the University of Phoenix where he received a bachelor's degree in computer science and earned multiple data scientist certifications from Johns Hopkins University.
"I am thrilled to be part of a company that aims to be a change maker," said Waxman. "Apiture is committed to creating innovative digital structures and we are building an exciting pipeline of technology that will directly benefit our clients."
To learn more about Apiture, visit http://www.apiture.com.
About Apiture
Apiture is an open API banking platform, focused on creative cutting-edge technology for financial institutions. The platform allows banks the fast and flexible deployment of features that their customers expect – mobile-focused, user-centric, convenient and secure. Apiture brings credit unions, and community and regional banks everything their end users need together in a cohesive, simple experience that can improve their financial lives.
Contact:
Claire Parker, Senior Public Relations Manager
910.597.1592
claire.parker(at)apiture(dot)com