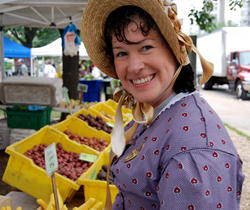 Schools and home school groups are encouraged to register for one or more of these special free presentations.
(PRWEB) April 12, 2018
Kalamazoo Valley Museum Hosts Special Performances for Students
Storytellers, musicians, a magician, writers, and a history re-enactor visit the Kalamazoo Valley Museum during the first two weeks of May. Schools and home school groups are encouraged to register for one or more of these special free presentations; the public is welcome to drop in, too. Presentations will be offered at 9:30 and 11 a.m. from May 2 through May 11. Seating is limited. Call to book your group now.
Wednesday, May 2: Larry Plamondon will tell new and old stories in the tradition of the Anishinaabe. Mr. Plamondon is featured in the Museum's Sky Legends of the Three Fires planetarium show and has recorded stories for the Museum's history exhibit Kalamazoo Direct to You. This is your chance to hear his stories in person! Appropriate for all ages
Thursday, May 3: Susan Harrison presents, "Rhythms and Characteristics of the Blues." Learn some of the history behind blues music while participating in the rhythms and movements. Kindergarten - Grade 5
Friday, May 4: Using magic, John Dudley will teach kids to "keep their eyes on the prize," establish goals, and design a path to succeed. John is the author of several books on magic, has won numerous awards, and has entertained and taught magic for decades. Kindergarten - grade 6
Monday, May 7: Robin Nott presents, "The Trick of the Tale!" Adults and kids are invited to learn what's at the heart of storytelling, our first language, and some tricks of telling entertaining stories from our own lives. Appropriate for all ages
Tuesday, May 8: Marcy Peake presents, "Please Understand." Through her own photography and quotes from youth, students will get a glimpse of the issues facing young people in Kalamazoo. Students in this session will write, then share anonymously, what they would like others to know about them. Grades 4 and up
Wednesday, May 9: Ellie Carlson presents "1858 Little Schoolhouse on the Prairie." Ms. Carlson, dressed in appropriate period clothing, becomes schoolteacher Miss Isabella Hoffmann. Students will travel back in time to 1858 and be given Arithmetic, Geography, Recitation, and Penmanship lessons. There will also be a spelling bee. Grades 2 - 5
Thursday, May 10: Jenifer Strauss will give two different presentations. The 9:30 a.m. session is "Hero Tales" for grades 2 - 6, while the 11:00 session is "Fairy Tales," for kindergarten through grade 2. In both sessions, students will create their own hero or fairy tale character.
Friday, May 11: La'Ron Williams presents musical storytelling with original and traditional stories that are designed to promote diversity, foster community building, encourage peaceful conflict resolution, and teach a host of "pro-social" skills, including empathy, self-expression, and attentive listening. Grades 3-5
To register for these free educational performances, contact Elizabeth Barker at 269.373.7965 or email at ebarker(at)kvcc(dot)edu. Be sure to ask about our planetarium shows and new exhibits, too.
The Kalamazoo Valley Museum is operated by Kalamazoo Valley Community College and is governed by its Board of Trustees.
Media Contact
Bill McElhone
Kalamazoo Valley Museum Director
269-373-7990, wgouldmcelh(at)kvcc(dot)edu