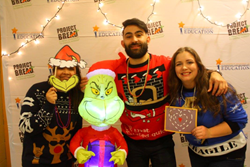 It's nice knowing that all the hard work we put into building our brand helped people who really needed it. We here at Get Ugly Sweaters are honored to have worked with the people at Project Bread and are ecstatic that we helped people enjoy the holidays in more ways than one. - Mercedez Lemieux
BOSTON (PRWEB) April 12, 2018
Last November, Boston-based company, Get Ugly Sweaters, partnered with Project Bread, an organization that strengthens local communities by promoting sustainable and reliable access to healthy food for all.
Project Bread continues to develop and expand anti-hunger programs around the state of Massachusetts, protecting low-income students from hunger. They use donations to nourish healthy bodies and healthy minds, allowing kids to be more productive in school and in classes.
By joining forces with this notable organization, Get Ugly Sweaters prides itself on getting a little naughty while still doing nice. Shoppers are not only purchasing unapologetically risqué designs and satirical sweaters but are providing 14 hot meals to each of those in need. Get Ugly Sweater's approach to the holiday sweater fad is driven by hopes to spread cheer to a range of communities in a multitude of ways.
Since teaming up, Get Ugly Sweaters has compiled all of their earnings for Project Bread and is proud to report the results. This past holiday season, Get Ugly Sweaters sold over 400 sweaters, raised $3,000 and fed over 6,000 people in need.
"Dropping off the check to Project Bread's headquarters last week was a truly exciting moment," said Mercedez Lemieux, founding member of Get Ugly Sweaters. "It's nice knowing that all the hard work we put into building our brand helped people who really needed it. We here at Get Ugly Sweaters are honored to have worked with the people at Project Bread and are ecstatic that we helped people enjoy the holidays in more ways than one. We can't wait for next year!"
To learn more about the partnership between Get Ugly Sweaters and Project Bread, visit https://getuglysweaters.com/project-bread/
Get Ugly Sweaters is a Boston-based clothing line for those people who want to make a statement wherever they go. It was born from the idea that people are born innately creative and with a sense of humor. Get Ugly Sweaters strives to be the life of the party, whether at your office Christmas party or on college campuses. Furthermore, Get Ugly Sweaters is dedicated to helping end hunger by feeding 14 people in need with the purchase of every sweater. To learn more about the brand, shop their styles, or to hear more about their partnership with Project Bread, please visit their website at https://getuglysweaters.com.