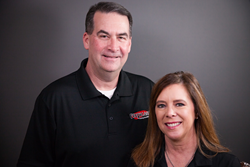 ...We saw this as an opportunity to change that and give people another option. We're looking forward to bringing a much higher level of professionalism to the painting industry here in our community. - Russ Fortier
FLORENCE, S.C. (PRWEB) April 12, 2018
Long-time Florence residents Russ and Wendy Fortier are pleased to announce their new professional painting company, Fresh Coat of Florence SC.
Fresh Coat offers residential and commercial painting services including interior or exterior painting, wood staining, and other services for nearly every protective coating application. They have a 24/7 receptionist, online scheduling, free detailed quotes and they only use high-quality materials. Fresh Coat of Florence SC serves Florence, Darlington, Hartsville, Lake City, Timmonsville, Pamplico and the surrounding areas.
"I've worked in service all my life, most recently for a technology company. Customer service is in my bones and, I knew, if I was going to open my own business, it would be something that gave me the opportunity to provide a top-notch customer service experience," Russ said.
"When we learned about Fresh Coat, we were immediately impressed with their reputation and commitment to customer service and the customer experience. The trade industry in this community doesn't always have a great reputation – some companies don't show up at all – and we saw this as an opportunity to change that and give people another option. We're looking forward to bringing a much higher level of professionalism to the painting industry here in our community," he added.
Russ and Wendy are both Francis Marion University graduates and they have two sons, Tyler and Davis. Russ has lived in the Florence area for more than 30 years and Wendy, a retired teacher, has lived in the region for her entire life. Wendy is a part-owner in the business and is leading the marketing efforts.
"Owning this business in this community, which we love so much, was an opportunity we couldn't pass up. We're excited to serve our clients, but we're also looking forward to showing our community's talented painters that there's another option. We know they wanted to be treated with respect, paid for their hard work and recognized for a job well done. We've interviewed more than 50 painters and we know we're building a strong team our clients will love," Russ said.
"We're hoping this business will be like a second family for us and for our team. We want to make sure we have the right people with the right support so we can grow Fresh Coat of Florence SC together," Wendy added.
As part of Fresh Coat's commitment to service, they offer a 3-3-3 customer service pledge, so calls will be answered by a live person within three rings, a quote will be delivered within three days (customer schedule permitting) and the job will be started within three weeks. All Fresh Coat employees are specially trained, dependable and background-checked and Fresh Coat of Florence SC is bonded and insured.
Fresh Coat was founded in 2004 as part of Strategic Franchising Systems. Since 2015, Fresh Coat has been included in the Bond's Top 100 and named to Entrepreneur Magazine's Franchise 500 list. Fresh Coat is also part of the International Franchise Association, the Small Business Association's Franchise Registry, VetFran and Minority Fran.
For more information about Fresh Coat of Florence SC, call (843)510-0007, email RFortier(at)FreshCoatPainters(dot)com or visit http://www.FreshCoatPainters.com/florence-sc/.