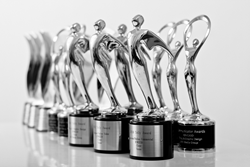 We're honored to be recognized amongst the top digital marketing agencies in Orlando
ORLANDO, Fla. (PRWEB) April 13, 2018
Remixed, an Orlando-based branding agency, is proud to be recognized as one of Orlando Business Journal's Top 25 Social & Digital Media Marketing Firms in the 2018 Book of Lists. The Orlando Business Journal ranks the Top 25 Social and Digital Media Marketing Firms annually, and includes them in their Book of Lists. These firms have proven they are the most sought after marketing and design companies in the Orlando area.
Remixed has spent well over a decade developing branding strategies for companies that range from Fortune 500s to start-ups. Their unique approach and dedication to client satisfaction allows them to craft marketing, advertising and design solutions for companies both local and global. They're confident in their ability to help any company reach their branding goals and objectives, as is evidenced by their broad range of case studies representing virtually all industries.
"We're honored to be recognized amongst the top digital marketing agencies in Orlando," said founding partner Simon Jacobsohn. Doug Berger, the agency's other founding partner elaborated, "The Remixed team works incredibly hard to find the most effective solutions for our clients' branding and advertising needs. We look forward to continuing to be a part of Orlando's creative community."
About Remixed
REMIXED is a full-service, multi-disciplinary branding agency that develops marketing strategies aligned with branding initiatives built to suit client needs and their respective audiences. We create print, broadcast and interactive campaigns — including web-based and social media marketing. Learn more at http://www.r3mx.com.