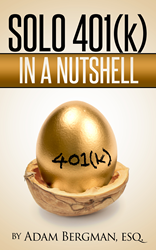 I wanted to make sure that the people who purchased my Solo 401(k) plan book would have updated information, especially in light of the revised 2018 contribution limits and the Tax Cuts and Jobs Act
NEW YORK (PRWEB) April 12, 2018
The Solo 401(k) Plan in a Nutshell, written by Adam Bergman, has now been updated and is available on Amazon & Kindle. The Solo 401(k) Plan book has been updated to include updated solo 401(k) plan contribution figures, changes in the law due to the Tax Cuts and Jobs Act, as well as including a section on using a Solo 401(k) plan to purchase cryptocurrencies, such as Bitcoin. "I wanted to make sure that the people who purchased my Solo 401(k) plan book would have updated information, especially in light of the revised 2018 contribution limits and the Tax Cuts and Jobs Act," stated Adam Bergman.
According to Mr. Bergman, who is self-employed or has a small business with no employees should learn more about the enormous tax and retirement benefits of establishing a Solo 401(k) Plan.
Adam Bergman, IRA Financial Group partner, has written seven books the topic of self-directed retirement plans, including, "How to use Retirement Funds to Purchase Cryptocurrencies, "The Checkbook IRA", "Going Solo," Turning Retirement Funds into Start-Up Dreams, Solo 401(k) Plan in a Nutshell, Self-Directed IRA in a Nutshell, and in God We Trust in Roth We Prosper.
Mr. Bergman is a member of the Forbes Finance Council and is a frequent contributor to Forbes.com on various topics involving retirement accounts, including the taxation of cryptocurrencies. Mr. Bergman has been quoted in over one hundred major news publications on the area of self-directed retirement plans. Mr. Bergman has been interviewed on CBS News and has been quoted in Businessweek, CNN Money, Forbes, Dallas Morning News, Daily Business Review, Law.com, San Francisco Chronicle, U.S. Tax News, the Miami Herald, Bloomberg, Arizona Republic, San Antonio Express, Findlaw, Smart Money, USA Today, Houston Chronicle, Morningstar, and American Lawyer on the area of retirement tax planning.
Prior to joining the IRA Financial Group, LLC, Mr. Bergman worked as a tax and ERISA attorney at White & Case LLP, one of the largest and most prestigious law firms in the world. IRA Financial Group is the market's leading provider of self-directed retirement plans. IRA Financial Group has helped thousands of clients take back control over their retirement funds while gaining the ability to invest in almost any type of investment, including real estate without custodian consent.
The IRA Financial Trust Company, a self-directed IRA custodian, was founded by Adam Bergman, a partner with the IRA Financial Group. Mr. Bergman is a leading expert on the taxation of retirement funds and has authored multiples articles on how to use a self-directed IRA to buy cryptocurrencies.
To learn more about the IRA Financial Group please visit our website at http://www.irafinancialgroup.com or call 800-472-0646.