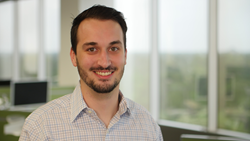 "I am ecstatic about joining Adhere Creative," said John. "This is a great opportunity for me to exercise my creative energy and work alongside an extremely talented team."
HOUSTON (PRWEB) April 12, 2018
Adhere Creative just added another ace to their stack of marketing mavericks. Meet John Parent, their new Marketing Coordinator and content writer. With a background in digital strategy, analytics, social advertising, and graphic design, John brings a full plate to the digital marketing table.
"John really impressed us," said Matt Lee, Agency Principal at Adhere Creative. "We're excited to have him on board and confident that our clients will feel the same."
As marketing coordinator, John will work closely with account managers and strategists to develop, execute, and analyze powerful digital marketing campaigns for Adhere Creative and their client base. More specifically, John specializes in brainstorming unique topics that strike a balance between industry relevance and audience interest. This, paired with his exceptional creative writing abilities, will help businesses differentiate themselves from the masses, engage audiences, and connect with prospects on a deeper level. In addition to strategy and content creation, John will also support SEO initiatives, video projects, social media marketing and advertising, and more.
"I am ecstatic about joining Adhere Creative," said John. "This is a great opportunity for me to exercise my creative energy and work alongside an extremely talented team."
John plans to keep his ear to the ground for Adhere's clients, especially as social media channels face scrutiny over privacy and security measures. He is particularly interested in how these trends will impact traffic patterns and the future of social marketing.
About Adhere Creative
Adhere Creative is an award-winning Houston-based web design and inbound marketing agency. They specialize in B2B digital marketing with an emphasis on full-funnel inbound strategy, content marketing campaigns, and sales enablement.
For more information on Adhere Creative, please visit http://www.adherecreative.com.