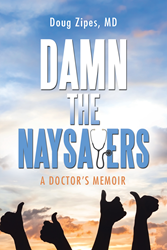 INDIANAPOLIS (PRWEB) April 16, 2018
In a fascinating retelling of his life, Doug Zipes, MD details his diverse experiences in "Damn the Naysayers: A Doctor's Memoir. His journey includes small-town life where he aspired to become a doctor, medical school lectures, lecturing refuseniks in the old USSR and entanglements with the KGB, lawsuits against major corporations to a house call in Saudi Arabia, and finally from a flirt with death to the complicated process of writing.
As he leads others through his whirlwind life, Dr. Zipes' experiences offer encouragement to anyone struggling to defy the odds and find his/her own successful path by refusing to take no for an answer.
"'No, you can't.' Those three words have shaped a lot of my life's journey—at times angering, occasionally dissuading, but always challenging me to come to terms with who I am, where I want to go, and what I want to be," said Dr. Zipes. "Life's easier when 'Yes, you can' paves the way, but the true test of a person is the challenge to damn the naysayers and do it anyway."
"Damn the Naysayers" shares the intimate true story of how one man made a difference—not just in medicine but in the lives of many people around the world.
"Damn the Naysayers: A Doctor's Memoir"
By Doug Zipes, MD
ISBN: 9781532033117 (softcover); 9781532033131 (hardcover); 9781532033124 (eBook)
Available at the iUniverse Online Bookstore and Amazon
About the author
Doug Zipes, MD, graduated Dartmouth College, Harvard Medical School, and Duke University Medical Center. He is a cardiologist who has published more than 850 medical articles, 15 textbooks, several nonfiction articles, and three novels. Dr. Zipes also writes a weekly health column for the Saturday Evening Post. He has been married for 56 years and has three children and five grandchildren. To learn more, please visit http://www.dougzipes.com.
###
General Inquiries:
LAVIDGE – Phoenix
Bryan Beach
480-306-6554
bbeach(at)lavidge(dot)com
Review Copies & Interview Requests:
LAVIDGE – Phoenix
Kiersten Woglom
480-998-2600 x 586
kwoglom(at)lavidge(dot)com