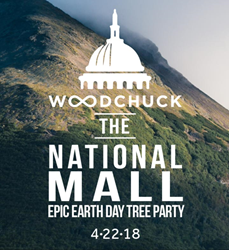 "A million trees in two years is just the beginning. We need to [10X] our impact. Our focus is on bringing communities, governments, and corporations together to maximize the impact of our initiative." - Ben VandenWymelenberg, founder of Woodchuck USA
MINNEAPOLIS (PRWEB) April 13, 2018
Woodchuck USA is pleased to announce a global initiative and announcement from Woodchuck founder, Ben VandenWymelenberg, celebrating Earth Day on the National Mall in Washington D.C.
Featuring VandenWymelenberg and other organizations, the goal of the Earth Day event will be to raise awareness for tree planting programs, offer complimentary tree planting kits shipped to consumer's homes, and to highlight Woodchuck's commitment to plant over 10 million trees by 2021. In continuing their Buy One. Plant One® program (started in 2015,) Woodchuck has already planted over a million trees on all six continent, with a presence on all seven.
"A million trees in two years is just the beginning. We need to [10X] our impact," explained Ben VandenWymelenberg, founder of Woodchuck USA. "Our focus is on bringing communities, governments, and corporations together to maximize the impact of our initiative."
The initiative began after the founder, Ben VandenWymelenberg, visited South America and Antarctica to fulfill his longtime dream of planting on seven continents, including planting at the southernmost point of South America—the edge of the world. Beginning in Ushuaia, Woodchuck USA planted trees as part of the project "The Forest Returns to the City" at Arroyo Buena Esperanza, near the road that leads to the Martial Glacier. Woodchuck also sponsored "Trees At The End Of The World," a project dedicated to all of the adventurers and explorers that have traveled to Antarctica in the past, present, and future as a symbol of their continued passion to reforest the planet while preserving important natural spaces.
In addition to expanding Woodchuck's Corporate Gifting and Custom Packaging business and leveraging corporate support into larger, more impactful projects, Woodchuck USA is rallying the national consumer base to build a community that acts as a movement- bringing like-minded people together to combat climate change. Those that can't attend on-site may visit the Woodchuck Earth Day page to learn other ways to get involved.
About Woodchuck USA
WOODCHUCK USA is an innovative wood products manufacturer based in Minneapolis, Minnesota, whose mission is to put nature back into people's lives. The WOODCHUCK USA Buy One. Plant One.® program plants a tree for each product sold. In addition to its corporate gifting and promotional products business, Woodchuck USA sells its American-made products directly to customers via an online store and boutique shops nationwide. To learn more about Woodchuck and the 'Buy One. Plant One.®' program or individuals and organizations can get involved, follow along @woochuckusa on Instagram, Twitter, and Facebook or visit http://www.woodchuckusa.com.